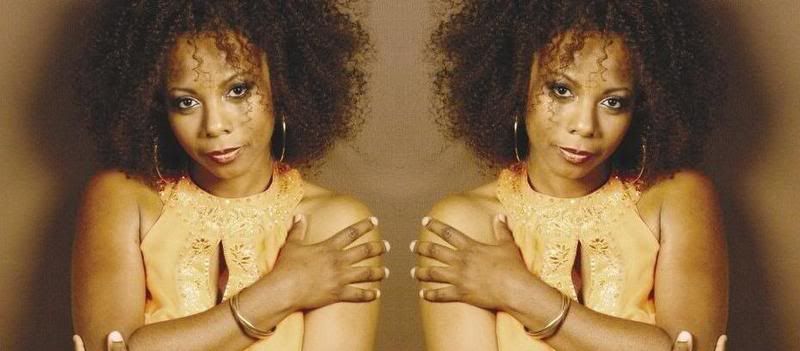 Joi Marshall is best known for being a former member of 90s girl group Jade, who shot to fame with tracks like "Don't Walk Away", "I Wanna Love You" and "Everyday of the Week". She recently celebrated the release of her debut solo LP, "Testimony & Praise", which contains songs like "I Needed", "Whole Again" and "Victory". I caught up with the singer/songwriter to talk about how the album is related to Britney Spears, working on different projects with production team The Underdogs, homosexuality VS. Gospel music, whether there will be a Jade reunion, and so much more … Enjoy reading, and don't forget to post your thoughts :)
---
Hamada: - Tell us about your musical beginnings? And how did you end up being part of 90s girl-group Jade?
Joi: - I started singing with my sister and family in Chicago when I was around 5 years old. About 5 years after I moved to Los Angeles, and started a group with two of my roommates Angie and Debbie (originally Joi, Angie and Debbie = "JAD"). Then Debbie's boyfriend, Curtis Mitchell, and his club promotion crew put on a showcase and introduced the three of us to Cassandra Mills of Giant Records. After we met with producer Vassal Benford, the group changed to Joi, Tonya Kelly, and Di Reed. We became "JADE".
Hamada: - Everyone is wondering why you split up, can you give us the lowdown?
Joi: - We split because we weren't being paid. We became angry at each other, the record label and the whole music business. In the same way that couples fight when there's no money in the house and they don't know what to do about it. There's love, but there was a big problem as well.
Hamada: - Are you still in touch with your ex-bandmates Di Reed and Tonya Kelly? And whom do you consider yourself closer to?
Joi: - Yes, I spoke with Tonya yesterday and Di last week. I'm equally close to both. We are still like sisters.
Hamada: - You're about to release your debut solo gospel album, "Testimony & Praise", which is due 25th September via Amen Records/Emi Gospel. Can you tell us more about it?
Joi: - Sure. "Testimony & Praise" is an album that I've wanted to write and produce for some time now. I worked with producers Kip Wilson, Eric Williams, Sean Dancy, Greg Kellogg and Daniel Dawson on the project. With this record I wanted to get two main messages across. First, that God loves us "Unconditionally," which happens to be a song title on the album. I wrote that when I was thinking about Britney Spears and my cousin. Britney is a great girl, who is going through some things and I wanted her to know that God loves her regardless of what people have to say.
Secondly, I wanted to talk a bit about my life and give me a bit more info about Joi Marshall. Sometimes in a group you don't get to know the individuals. I wanted to become more intimate with my fans.
Hamada: - Which songs are your favorites from the new album?
Joi: - All of them! Each has a unique story and I prayed and asked God what I should write about before I began each song. "Dedicate" is a song that I wrote to my daughter because I want her to understand her value to me. I want her to love herself as much as I do. Many songs out today are attacking the worth of young women, so my job is to counteract those negative words being spoken. My other favorites are "I Needed," "A House Divided," "Victory" … I love them all!
Hamada: - The track "Whole Again" is about the endless trials and tribulations that are going on in Sudan. What made you choose such a sensitive subject? I'm also thankful for your concern cuz I'm originally from Sudan as well (smiles).
Joi: - I do love "Whole Again." I wrote that about Sudan's genocide and slave trade. When I think about some of what each individual Sudanese may need (North and South), I believe wholeness is urgent. I can't imagine how returning slaves and refugees will try to piece together a life when this is over. Restoration is what I pray for when I think of Sudan.
Hamada: - When you decided to come up with a solo album, why did you choose the gospel route? And will we see you coming out with an R&B album as well?
Joi: - Well, it was sort of a natural progression based on who I am. I'm an encourager and teacher and I really love God. So, I wanted to talk about my life with Him. I may do an R&B album. I don't have a problem with that at all. I may write an album of love songs … who knows? I'm not stuck on genres. I just write what I'm feeling at the time.
Hamada: - Word has it that fellow artist Chante Moore had a controversial past with church groups after the erotic video for her single "Bitter" surfaced. Do you think she received a fair treatment when they decided to severe ties with her temporarily?
Joi: - I didn't hear about that.
Hamada: - There's a stereotype going around that most gospel singers are homophobic. What's your say on this matter? And do you have gay friends?
Joi: - Really? Many gospel singers are gay. That's a broad stereotype. I love people unconditionally just like God does. I live in Hollywood; of course I have gay friends. LOL.
Hamada: - You've also written a book called "Answers to the 20 Most Asked Questions about the Music Business". How did that idea come about?
Joi: - Well, I wrote the book to help the average person understand the music business. Most people don't understand how you get paid, how to get in, or build a career once you get in. All I can say is ... you don't get paid every Friday or twice a month!
Hamada: - Word has it that you're writing songs for other artists. Can you tell us more about that? And which songwriters you're fond of at the moment?
Joi: - Yes, I'm writing with the Underdogs and Cartel Music in Los Angeles. We have a great new artist that I've been working with, Nicolina. She's a cute 20-year old pop-rock singer with soul. You'll be seeing her soon. Songwriters wise - I love Diane Warren, Keri Hilson and a few others.
Hamada: - Did you know that British artist Javine covered Jade's "Don't Walk Away", and it was top 20 hit in the UK? If so, what do you think of her re-worked version of the evergreen classic?
Joi: - Haven't had a chance to hear it.
Hamada: - If you were to record an R&B album, which producers would have been on your wish-list?
Joi: - Definitely Kevin Randolph and Dave Stewart from Cartel/Underdogs. I'd also love to do an up-tempo joint with Timbaland.
Hamada: - Speaking of producers, I've always wondered why Vassal Benford wasn't part of Jade's second album, "Body, Mind & Song", when some of your biggest hits were made by him!
Joi: - You're good! Well, honestly, we allowed others to influence our decision not to work with him. Because they had plans for our recording budget that we weren't aware of. Let's just say we are still a million dollars in the red after we recorded that second album. And we were fully-recouped after the first one. You live and learn.
Hamada: - What do you think of the state of girl-bands today? And why do they lack longevity in your opinion?
Joi: - Groups in general are hard. Whether you're male or female! I'm very proud of Destiny's Child, but they had their parents looking out for them. With the exception of a very few, young groups are a financial train wreck waiting to happen. Then of course they break up. That's why I wrote the book. I wish more parents would get involved in their kids' careers.
Hamada: - If god could grant any of your wishes, which one would it be?
Joi: - God does grant wishes (aka answers prayers). I can't think of anything I've asked God for that I haven't received … in time. Right now, I'm praying for a platinum album and a great tour. I'm sure I'll have more soon. LOL.
Hamada: - Tell us three things that most readers will be surprised to learn about you?
Joi: - 1.) I haven't had a glass of milk since I was 5 years-old … YUK!
2.) I haven't been in a good relationship in oh … 10 years!
3.) I love rock music!
Hamada: - What's your idea of happiness?
Joi: - Having a great relationship with my family, doing what I love in my career, working with friends and making good money in the process. Oh … and being in love … one day.
Hamada: - This is for loyal fans that have been waiting a very long time, is there any chance for a Jade reunion?
Joi: - Well, if they buy enough "Testimony & Praise" albums, we'll have a budget for a Jade album. I'm sure we will ;)
Hamada: - Any message you'd like to give to your fans all over the world?
Joi: - Yes, God loves us unconditionally. Don't think that because you're not perfect, you're going to hell. Buy the record and write me to say what you think. I'm hoping to see you soon! And last but not the least … I love you!