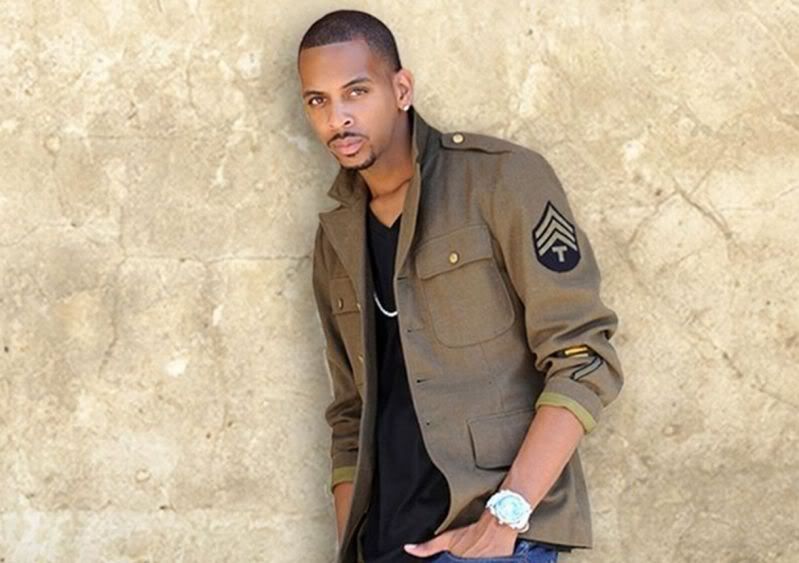 Lonny Bereal is gearing up for the release of his upcoming debut album on Notifi Music Group, "The Love Train," which is preceded by hit lead single, "Favor," featuring Kelly Rowland. The singer/songwriter previously helmed tracks for other artists such as "Thought You Should Know" by Keyshia Cole [Geffen Records], "Over" by LeToya Luckett and "I Wanna Be" by Chris Brown [Jive Records]. In this exclusive interview with Monica Mania, The R&B crooner talks about "The Love Train," collaborating with former Destiny's Child members Kelly Rowland & LeToya Luckett, and so much more. Enjoy!
---
Hamada: How did you get into singing and songwriting?
Lonny: Grew up in a musical family. Playing & singing in church as a kid. Had the luxury of family & musician associates who got me auditions, or just got me hired with no audition. I actually started songwriting with my cousins, Kenny & Charlie. Developed over the years & Tank took me under his wing. Tank actually got me my 1st placements & stamped me as an official songwriter.
Hamada: What can we expect from your upcoming debut album, "The Love Train"?
Lonny: Great, baby-making, love music with elements of past successful artists, who inspired me as a child. That talks about the ups & downs of a relationship. Also just some good'ol music, to have fun to.
Hamada: Whom did you collaborate with on the project?
Lonny: Adonis Shropshire, Song Dynasty, Troy Taylor, Tank, Chris Brown, Kevin McCall, J-Doe, Teyana Taylor, J. Marlon, Seven, Warren "Oak" Felder, Eric Hudson, Tyrese & Jamie Foxx so far. There's more in the works!
Hamada: Which musicians you'd like to team up with if given the opportunity?
Lonny: Swizz Beats, Pharrell Williams, John Baptiste, Rodney Jerkins & Bryan Michael Cox.
Hamada: Tell us about your lead single, "Favor," featuring Kelly Rowland?
Lonny: It's a song I co-wrote with Chris Brown, Teyana Taylor, Kevin McCall & J. Marlon. The demo actually leaked last year & people fell in love with it. When, I actually chose to keep the song because of the excitement of Ira Dewitt, I reached out to Kelly & asked her if she'd get on it! She jumped on it immediately & now the world is hearing the results.
Hamada: Your initial collaboration with Rowland was on her sophomore album, "Ms. Kelly," where you've penned songs such as "Still in Love with My Ex" and "Better without You." Have you noticed any difference in her as an artist when you've collaborated with her again on "Favor"?
Lonny: I was actually blessed to be a part of 12 songs, on the Ms. Kelly project. 2 of them, on the European release, & 3 on the Deluxe Edition. I definitely notice the growth in her voice. The confidence she has now & there's just a NEW glow on her.
Hamada: Besides Kelly Rowland, you've also written "Over" for LeToya Luckett, who's a former member of the Destiny's Child camp as well. How was it like working with her?
Lonny: It was fun! I actually got a new found respect for LeToya's voice while working with her, for the 1st time! She's dope! We had a lot of fun! She's a true artist.
Hamada: Have you decided what's the second single going to be?
Lonny: Not yet. I have a lot to choose from. It's kinda hard right now. I'm narrowing it down though.
Hamada: List some of your favorite songs recorded so far for 'The Love Train,' with brief liner notes about each one of them.
Lonny: "Long Ride" is just a feel good, classic R&B song. I love it! "Expected It Anyway" is a song of truth, with an old school feel to it. "Shawty I Love It" is a hot/sexy R&B song with a feat. from Tank. Still waiting to hear Trey Songz verse. Gonna be CRAZY! "When a Soldier Cries" is definitely a BIG Grammy song. I have some special features on it! "Dim The Lights" another sexy, strip clubbish song. I could go on & on about "The Love Train."
Hamada: Describe yourself in 5 words.
Lonny: Goofy, spiritual, loving, forgiving, determined.
Hamada: Tell us something that most readers will be surprised to learn about you.
Lonny: Growing up, I didn't wanna be a singer. I ran from it. I wanted to be a drummer.
Hamada: Which artists do you listen to nowadays?
Lonny: R. Kelly, Tank, Chris Brown, Usher, Beyonce', Keri Hilson, Kelly Rowland, Trey Songz, Miguel, J-Doe & Drake.
Hamada: What are the qualities that you look for in a partner?
Lonny: Understanding, spirituality (God factor is a must), ambition, a sense of humor, a family person. Gotta be adventurous & spontaneous! Oh & she must have a sexiness about her!
Hamada: Where do you see yourself 10 years from now?
Lonny: Having fun! With a wife & kids to come home from. On my 5th or 6th album. Still touring. In & out the studio. Still successfully writing GREAT music. Taking vacations whenever I feel like it! LOL...
Hamada: In any message you'd like to convey for your fans all over the world?
Lonny: The message of love. I want the world to REALLY understand what love is. It's unconditional. 1 Corinthians 13! Love doesn't hurt people. People, hurt people & you can't define "love" based on an experience with a human being. God IS......
[Visit] Lonny Bereal @ Official Website
[Follow] Lonny Bereal @ Twitter