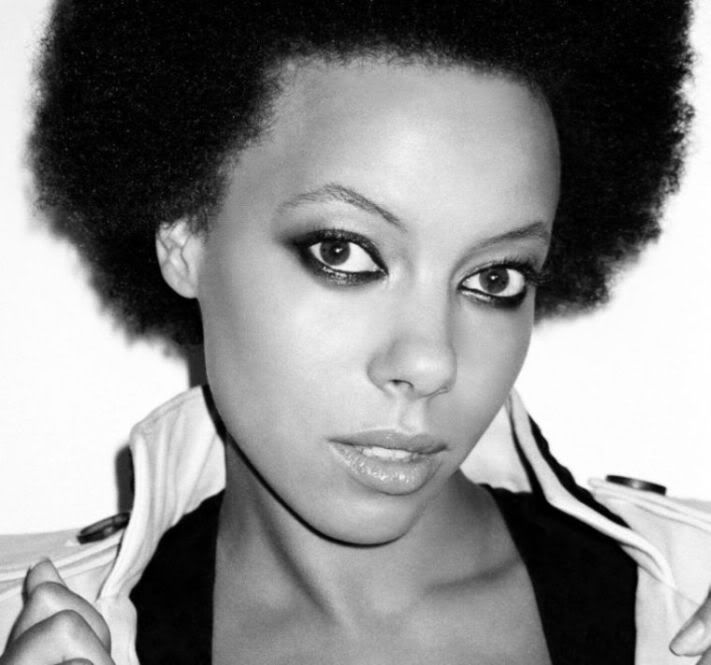 Ladies and Gentlemen, let me introduce to you promising new artist Adama. She comes from the United Kingdom, and her debut album "Delicate Dragon" is due in April via indie label 4 D People Records. She best describes her work as a multicultural, electronic, live, world experience within an Alternative-Pop album. I caught up with the lovely and very humble singer to talk about "Delicate Dragon", her favorite songs from the album, whom she collaborated with, dream duets, secret talents and her idea of the perfect man … Enjoy, and don't forget to post your thoughts :)
---
When did you decide to pursue singing professionally? And who were some of your influences growing up?
I decided to pursue singing and songwriting as my profession around twelve years ago. Most of that time was spent developing and growing as an artist. Whilst I worked on my music, I was studying at college and working part-time jobs, that sort of thing. I've been doing music full-time for the past few years.
Some of my influence growing up came from my mother's record collection, which I would play all the time. She's very open when it comes to music, so I was listening to everything from country to reggae. My dad got me listening to everything from The Carpenters to Choplin.
Tell us about your debut album "Delicate Dragon"? And when is it coming out?
"Delicate Dragon" is coming out in April this year and has been in the making from conception to the finished CD for many years now. I'm very proud of the results. I worked very hard with a great team of people and talented musicians. I dream the music I write so I am over the moon with excitement to have the opportunity to share my inner dreams with the outside world.
What are some of your favorite songs from the album? And why?
This is a hard question for me because I love each song for different reasons but if I had to pick a few favorites, it would be "Take Me Home", "Silver Tree" and "Hanniman".
"Take Me Home" was a very emotional and personal dream that took me a couple of weeks to write down as it was too painful to recall. But we had a session to do with the Jerusalem Symphony Orchestra and I knew that this was my chance to get real strings on the song, so I wrote it all down before the recording session and managed to get the strings recorded. It came out really great.
I love "Hanniman" because it shows a very tribal side to me that the other songs don't show.
"Silver Tree" is another fave because like with "Take Me Home", it was very emotional dream, and I got the chance to hear the string orchestration in my dream happen in real life. And now I can share this with other people.
Whom have you worked with on "Delicate Dragon" in terms of songwriters/producers?
I worked with Gili Wiseburgh, who is a songwriter and producer. Gili and I have been working together for the past six years so we really know each other musically and are constantly pushing each other's boundaries creatively. He also co-wrote some of the songs on the album. Gili has worked with artists such as the Sugababes, Jem, Imogen Heap, and Lamb. I'm working on a side project right now with a band called "Tuatara", which has great musicians too; Peter Buck and Scott McCaughey of R.E.M and Barrett Martin of the Screaming Trees. The album is also due out this April.
Which artist you'd love to do a duet with? And why?
I would love to do a duet with Jeff Buckley but he has passed on. He's one of my most favorite artists.
What made you choose alternative pop as a musical route? And don't you think it's less radio friendly than usual Pop and R&B tunes?
I love alternative pop! It fits me really well as I often dream music which can fit into a pop format yet I like to have the creative freedom and individuality that the alternative world brings. So to marry the two is great. Some of my songs are more alternative than others. I have some songs that could be less radio friendly than the usual pop and R&B tunes if a particular station is strict in its format. That's alright with me. But for stations who like a bit of diversity mixed in with the mainstream sound, my music would fit nicely all round.
Since "Delicate Dragon" is seeing the light of day in the US, do you think it will be hard for you to be recognized among the several other non-US acts that are trying the break the market barriers as well?
No, I don't like to think so. I believe that I have a distinct sound and that my US fans appreciate it. There are other non-US acts trying to break in the States but they are all so varied in themselves and probably appeal to different people.
You're currently signed to indie label 4DPeople. How's your working relationship with them so far? And do you think that indie labels are as good as major labels when it comes to promoting their artists?
I love working with 4Dpeople! I'm so blessed to have their support and belief in me as an artist. We have great communication and it has been an amazing experience from the start. I think that as times are changing and the business is changing, indie labels have the potential to promote their artists on a much more level playing field.
The difference is becoming more and more blurred as new marketing and promotional opportunities are opening for independents to break artists or for artists to break themselves. Also, it's not only the expertise in marketing and promotion that labels need, it's the money and having enough of it that makes them effective.
There are countless reasons why majors have the upper hand when it comes to promotion but I'd rather be a priority artist on a good indie label that believes in my potential to succeed in the market place, and the desire to push my album, than be signed with a major who is sitting on my album because they are not sure if they want to do anything with it. I've been there.
Which producers/songwriters you'd like to collaborate with in the future?
In the future I would love to collaborate with every producer and songwriter who inspires me and that's a list to long to mention! But if I stop being greedy for a second and think of one that comes to mind, that would be Mark Bell (producer for Bjork and Depeche Mode) and Mirwais Ahmadzai (producer for Madonna).
Being half Nigerian and half English, have you faced any kind of racism? And was it difficult for you to blend in with both races in the community?
Yes, I've had racism and I've had it from both sides of the black and white community. As a child it was difficult only at those times when other people made it difficult for me. I've never ever thought of people as racially different. To me, we are all people, and it hurts when they make it an issue.
What does Adama look for in a man? What turns you off? And are you dating anyone at the moment?
I like to connect with a man spiritually, emotionally and mentally as well as physically. I'm quite an intense woman when it comes to these things LOL, so without that genuine connection, I guess I'm turned off. I am dating somebody right now.
Can you tell us something that most fans will be surprised to learn about you?
Um…Yes! I would tell you that I was once the British Kung Fu champion and I competed in Hong Kong. My weapon was the butterfly knives.
Have you visited any Arabic country before? If not, which one would be your first choice?
I have never visited an Arabic country before and I love Arabic culture. I love Middle Eastern food and music. I also love Egyptian and Moroccan belly dance. I'm crazy for Algerian Rai music. My first choice of cities would be Dubai, Cairo or Marrakech. It's very hard to pick. Each Arabic country is different and has its own beauty and quality. Even to see one country would be a dream.
Is there any message you'd like to give to your fans all over the world?
Yes there is! Keep your dreams alive! Follow your heart, feel the fear and do it anyway.