Thursday, March 01, 2007
SCHERZINGER JOINS YANKEE ON NEXT ALBUM
Apart from appearing on albums by R&B crooner Avant, Reggae artist Shaggy, Rapper Diddy, and music producer Timbaland, Pussycat Dolls' lead singer Nicole Scherzinger has another man to add to her resume, and it's none other than Reggaeton maestro Daddy Yankee as she's appearing on his next album which features additional collaborations with Fergie, Akon (Gwen Stefani, T-Pain) and Scott Storch (The Game, Justin Timberlake). Scherzinger will also release her highly anticipated solo debut album later this year, so expect productions from Bryan Michael Cox (Claudette Ortiz, Mariah Carey), Sean Garrett (Amerie, Chris Brown), Polow Da Don (Jamie Foxx, Kelly Rowland) and Will-I-Am (Mary J. Blige, Kelis).
Posted at 02:51 pm by
mokhal
Permalink
Wednesday, February 28, 2007
Ladies and gentlemen, allow me to introduce you to Brit & Alex! They're a new a girlband signed by indie label Hometown Records and are currently putting the final touches on their upcoming debut album which will boast collabos with songwriters/producers Dallas Austin (Sugababes, Anastacia), Polow Da Don (Fergie, Kelly Rowland), Sean Garrett (Gwen Stefani, Beyonce), Tricky Stewart (Chante Moore, Blu Cantrell) and Penelope Magnet (Mya, Britney Spears). You can also visit their official MySpace profile and listen to some of their hot joints like the rumored lead single "I Like Boys" and "Club Banger".
Posted at 01:37 am by
mokhal
Permalink
PERRY DRAFTS JACKSON FOR NEXT MOVIE VENTURE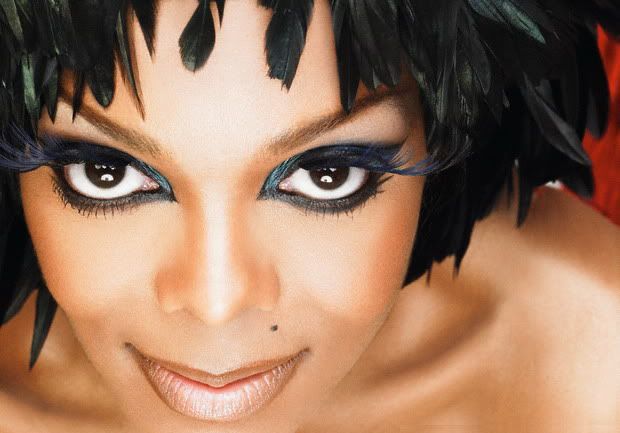 Janet may be off the spotlight at the moment, but she's definitely not showing any signs of slowing down as it has been recently reported that she's starring opposite actor/director Tyler Perry on his upcoming movie "Why Did I Get Married?", which revolves around the trials of marriage, and what happens to one family when a sexy young temptress arrives on the scene. The movie also stars singer/songwriter Jill Scott and will be released sometime in 2008. For those who are not familiar with Perry's work, he's also responsible for bringing us excellent African-American movies like "Diary of a Mad Black Woman" (one of my all time favorite movies), "Madea's Family Reunion" and "Daddy's Little Girls". Something also tells me that Perry will bring out another side of Jackson that we haven't seen before, and prove to us that she's a much better actress than we all think she is!
Posted at 12:00 am by
mokhal
Permalink
Tuesday, February 27, 2007
RIHANNA GETS UPTEMPO ON 3RD ALBUM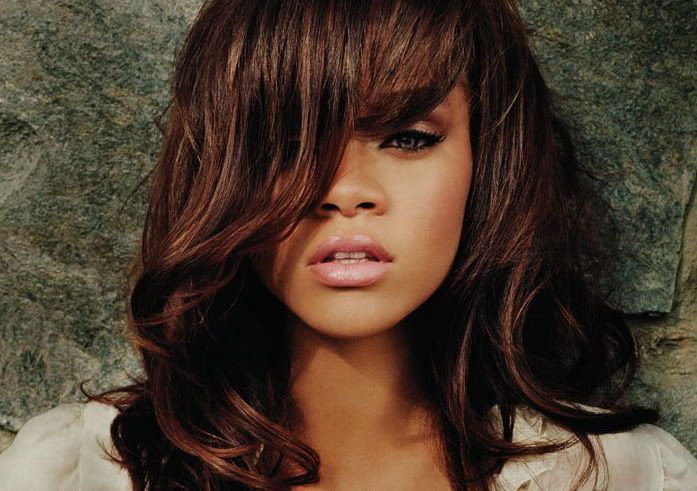 Sonsgtress Rihanna is currently working hard at her follow up to the platinum selling "A Girl Like Me", which boasted hits like "S.O.S." and "Break It Off" featuring Sean Paul. Singer/songwriter Ne-Yo is among the collaborators on the album, and here's what she had to say about the "Unfaithful" penner:
"He is such a genius," the Barbados-born beauty said recently. "I've never had vocal training, so when I'm in the studio, he'll tell me how to breathe and stuff. And I'm like, 'What?' Like he'll call out these big fancy words: 'OK, I want you to do staccato.' And I'm like, 'OK, I don't know what that is.' "
Expect additional collaborators on the album like Stargate (Beyonce, Megan Rochell), Evan Rogers & Carl Sturken (Kelly Clarkson, Emma Bunton), Timbaland (Chris Brown, Ginuwine), Will-I-Am (Justin Timberlake, Mary J. Blige) and Sean Garrett (Fantasia Barrino, Gwen Stefani).
The "Pon De Replay" singer also hopes to rope in hitmakers Polow Da Don (Jamie Foxx, Keyshia Cole) and Andre 3000 (Kelis, Norah Jones) for the album, and despite not setting a release date yet, Rihanna gave us some hints on what to expect as she described the new project as fresh and mostly up-tempo.
Posted at 06:28 pm by
mokhal
Permalink
JACKSON ON THE ISLAND WITH DUPRI?
Rumor has it that since recently mega producer Jermaine Dupri joined the Island division of Def Jam Records, his girlfriend Janet Jackson might be going along for the ride as well! In case you didn't know, Jackson's latest effort "20 Y.O." ends her 5 album deal with Virgin Records, but nevertheless, I really hope that for her next album, she gets a record label that knows how to market her properly. On the other hand, Def Jam records are also known for hooking up their artists with the best producers/songwriters out there, and I just can't wait to see who Ms. Jackson will collaborate with next …
Posted at 02:07 am by
mokhal
Permalink
Monday, February 26, 2007
SOLANGE DOIN' PRETTY GOOD WITH SWIZZY
Additional details have been revealed about singer/songwriter Solange Knowles' upcoming sophomore album, which is due later this year via Sony Music. She stated in her official MySpace profile that R&B vocalist Bilal is among the collaborators on the album, but what she didn't mention is that hitmaker Swizz Beatz is also on board as he produced a new track for her called "Pretty Good", and I'm really hoping that this joint will make it to the final cut! For those who came in late, Knowles also worked with Kaseem Dean as a songwriter on her sister Beyonce's smash singles "Upgrade U" and "Get Me Bodied". Also look out for more Swizzy productions on the next albums by Britney Spears, Usher, Jennifer Lopez and rapper Eve.
Posted at 11:39 pm by
mokhal
Permalink
IN THE MIDDLE OF THE NIGHT WITH MARTIN
Andrea Martin, one of my favorite songwriters, signed a new record deal with indie label Soterios Records, which is managed by critically acclaimed DJ/Producer/Remixer Hani. She's currently recording her sophomore album "Middle Of The Night", and it will be released later this year.
Martin's debut "The Best Of Me" was released in 1998 via Arista Records, and it boasted hits like "Let Me Return The Favor", a cameo by veteran vocalist Lauryn Hill, as well as collaborations with producers Soulshock & Karlin (Whitney Houston, Toni Braxton), Rodney Jerkins (Mariah Carey, Fantasia) and Wyclef Jean (Claudette Ortiz, Mary J. Blige).
PS. Expect a special compilation of my favorite Andrea Martin songs very soon
Posted at 09:04 pm by
mokhal
Permalink
THE YOUNG LIONESS ALBUM COVER?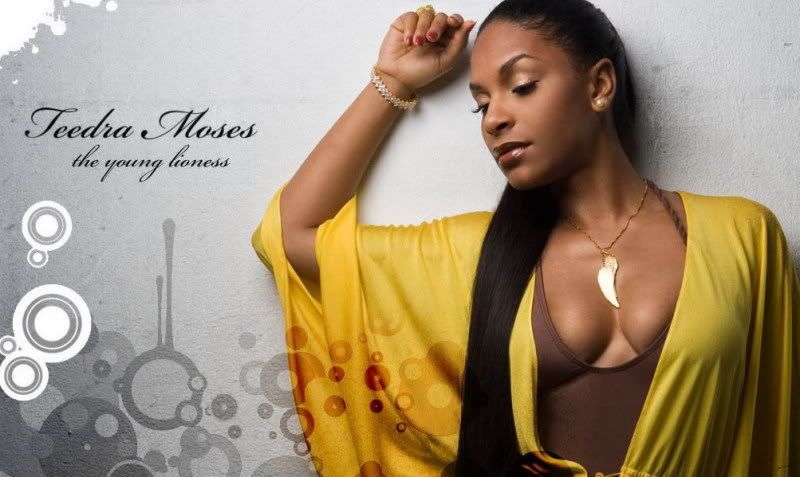 Seems like this will be the cover of singer/songwriter Teedra Moses' upcoming sophomore album "The Young Lioness", which is due this year via TVT Records. The new disc sports collaborations with long time partner Poli Paul (Christina Milian, Teairra Mari), Cool & Dre (Kelis, Mary J. Blige) and Raphael Saadiq (Joss Stone, Angie Stone). Album cuts include "Take My Love Away", "Love Divine", "Get Free" and the rumored lead single "Love's Gonna Be" featuring R&B crooner Trey Songz.
Posted at 02:24 am by
mokhal
Permalink
Sunday, February 25, 2007
Former Misteeq member Alesha Dixon is rumored to release her upcoming debut album this September. I'm not sure if the title is gonna change, but it was initially titled as "Fired Up" and was going to be released late last year, but due to sluggish sales of both singles "Knockdown" and "Lipstick", plans to go further with the album got scrapped! She also went through a very difficult time after stories about her husband's infidelity with singer Javine were all over the news.
But keeping all the drama aside, I really can't wait for this album to come out! Expect collaborations with songwriters/producers Soulshock (Toni Braxton, Kelly Rowland), Mark Hill (Craig David, Christina Milian), Johnny Douglas (Amerie, All Saints), Richard X (Kelis, M.I.A.), Xenomania (Sugababes, Girls Aloud), Cathy Dennis (Britney Spears, Janet Jackson), Matt Rowe & Richard Stannard (Victoria Beckham, Kylie Minogue) and British rapper Estelle, who's also signed by singer/songwriter John Legend and will come out with her sophomore album later this year.
Here are some of the tracks Dixon recorded for the album, but there's still no confirmation on which ones will actually end of on the final tracklisting.
Change – produced by Mark Hill.
Fired Up – produced by Johnny Douglas.
For You I Will (featuring Estelle) – produced by Johnny Douglas.
Let It – produced by Johnny Douglas.
Little Bit of Love – produced by Johnny Douglas.
Love Criminal – produced by Richard X / co-written by Cathy Dennis.
No Happy Ending – produced by Mark Hill.
Superficial – produced by Johnny Douglas.
Ting a Ling – produced by Richard Stannard.
Ain't No Reason – produced by Richard Stannard & Matt Rowe.
Bodyography – produced by Soulshock.
Little Girl – produced by Richard Stannard & Matt Rowe.
Make It Better – produced by Richard Stannard & Matt Rowe.
Never Again – produced by Richard Stannard & Matt Rowe.
What Does He Want From You? – produced by Richard Stannard & Matt Rowe.
Knockdown – produced by Brian Higgins & Xenomania.
Posted at 06:49 pm by
mokhal
Permalink
JADE ROLLS WITH DOZIER, JEAN AND WARREN ON DEBUT ALBUM
Jive recording artist Samantha Jade is getting ready to launch her debut album due later this year. The Australian newcomer captured our hearts with the Wyclef Jean produced "Step Up", which was taken from the soundtrack to the movie by the same name. Some of the collaborators that are expected on her debut include producers Beau Dozier (3LW, Avant) and Billy Mann (Kelly Rowland, Pink), as well as songwriters Dianne Warren (Whitney Houston, Mariah Carey), Lindy Robbins (Toni Braxton, Nicole Scherzinger) and Clutch member Ezekiel Lewis (Ciara, Fantasia). The final tracklisting hasn't been set yet, but joints like "Attached", "Break The Rules", "Changin'", "My Next", "Shame On You" and "The Real Me" are tipped for inclusion on the album. And for those who came in late, she also co-wrote tracks like Jojo's "Secret Love" and Ashley Tisdale's "Positivity" … I see a star in the making!
Posted at 06:43 pm by
mokhal
Permalink
---
Contact Me:-------
Email: supa_monica@yahoo.com
Facebook: http://www.facebook.com/hamada.licious
Twitter: http://twitter.com/supaham
BB Pincode: 25E267B6
Sister Blog - Easy Target: http://easytarget.blogdrive.com

---
MONICA MANIA INTERVIEWS

Adama
http://monicamania.blogdrive.com/archive/1793.html

Alex Reid
http://monicamania.blogdrive.com/archive/4230.html

Andrew "Pop" Wansel
http://monicamania.blogdrive.com/archive/5750.html

Angela Hunte
http://monicamania.blogdrive.com/archive/3760.html

Aria Crescendo of Paradiso Girls
http://monicamania.blogdrive.com/archive/3943.html

Asia Cruise
http://monicamania.blogdrive.com/archive/2618.html

Autumn Rowe
http://monicamania.blogdrive.com/archive/5218.html

Bayje
http://monicamania.blogdrive.com/archive/3826.html

Beau Dozier
http://monicamania.blogdrive.com/archive/1807.html

Benny Blanco
http://monicamania.blogdrive.com/archive/4440.html

Black Buddafly
http://monicamania.blogdrive.com/archive/1591.html

Brit & Alex
http://monicamania.blogdrive.com/archive/1852.html

Canela Cox
http://monicamania.blogdrive.com/archive/1656.html

Carsten "Soulshock" Schack
http://monicamania.blogdrive.com/archive/1725.html

Celena Cherry [of The Honeyz]
http://monicamania.blogdrive.com/archive/1751.html

Chantel McCrary
http://monicamania.blogdrive.com/archive/6486.html

Charmayne "Maxee" Maxwell [of Brownstone]
http://monicamania.blogdrive.com/archive/1913.html

Cleo Higgins [of Cleopatra]
http://monicamania.blogdrive.com/archive/1739.html

Cover Drive
http://monicamania.blogdrive.com/archive/5388.html

Cristyle "The Ink" Johnson
http://monicamania.blogdrive.com/archive/2654.html

Darren Lewis of Future Cut
http://monicamania.blogdrive.com/archive/4383.html

Dildo Cop
http://monicamania.blogdrive.com/archive/2385.html

Edwin "Lil' Eddie" Serrano
http://monicamania.blogdrive.com/archive/2790.html

Emily King
http://monicamania.blogdrive.com/archive/1992.html

Erika Rose
http://monicamania.blogdrive.com/archive/2083.html

Evan "Kidd" Bogart
http://monicamania.blogdrive.com/archive/2337.html

Goapele
http://monicamania.blogdrive.com/archive/2551.html

Jack Splash
http://monicamania.blogdrive.com/archive/4618.html

JADA
http://monicamania.blogdrive.com/archive/2631.html

Jason Derulo
http://monicamania.blogdrive.com/archive/4464.html

Jazzy
http://monicamania.blogdrive.com/archive/1709.html

Jeannie Ortega
http://monicamania.blogdrive.com/archive/1980.html

Jessi Malay
http://monicamania.blogdrive.com/archive/2068.html

Jessica Jarrell
http://monicamania.blogdrive.com/archive/5268.html

Johnny Douglas
http://monicamania.blogdrive.com/archive/1678.html

Joi Marshall
http://monicamania.blogdrive.com/archive/2311.html

Jonas "Jay Jay" Jeberg
http://monicamania.blogdrive.com/archive/4214.html

Jonathan "J.R." Rotem
http://monicamania.blogdrive.com/archive/2032.html

Karen Poole
http://monicamania.blogdrive.com/archive/1878.html

Karen Poole # 2
http://monicamania.blogdrive.com/archive/3783.html

Karina Pasian
http://monicamania.blogdrive.com/archive/1691.html

Kasey Butler
http://monicamania.blogdrive.com/archive/1537.html

Katie Holmes
http://monicamania.blogdrive.com/archive/2055.html

Keisha White
http://monicamania.blogdrive.com/archive/2364.html

Lea
http://monicamania.blogdrive.com/archive/1668.html

Lisa Simmons
http://monicamania.blogdrive.com/archive/1826.html

Livvi Franc
http://monicamania.blogdrive.com/archive/3627.html

Lolene
http://monicamania.blogdrive.com/archive/4328.html

Lonny Bereal
http://monicamania.blogdrive.com/archive/5462.html

Lucy Walsh
http://monicamania.blogdrive.com/archive/2425.html

Lyrica Anderson
http://monicamania.blogdrive.com/archive/5700.html

Makeba Riddick
http://monicamania.blogdrive.com/archive/1614.html

Maria Hamer Jensen
http://monicamania.blogdrive.com/archive/1899.html

Marsha Ambrosius
http://monicamania.blogdrive.com/archive/3656.html

Matisse
http://monicamania.blogdrive.com/archive/4841.html

Meleni Smith
http://monicamania.blogdrive.com/archive/4476.html

Meleni Smith (2)
http://monicamania.blogdrive.com/archive/5820.html

Michelle Bell of Lynn & Wade LLP
http://monicamania.blogdrive.com/archive/2247.html

Michelle Escoffery
http://monicamania.blogdrive.com/archive/1640.html

Myxx
http://monicamania.blogdrive.com/archive/2229.html

Neon Hitch
http://monicamania.blogdrive.com/archive/5685.html

Nicole Morier
http://monicamania.blogdrive.com/archive/3675.html

NiRe Alldai
http://monicamania.blogdrive.com/archive/5301.html

Patrick "J.Que" Smith
http://monicamania.blogdrive.com/archive/2479.html

Paula Campbell
http://monicamania.blogdrive.com/archive/2163.html

Paula DeAnda
http://monicamania.blogdrive.com/archive/4202.html

Peach Candy: Rasheeda & Kandi Burruss
http://monicamania.blogdrive.com/archive/2276.html

Pixie Lott
http://monicamania.blogdrive.com/archive/3853.html

Reginald "Syience" Perry
http://monicamania.blogdrive.com/archive/4638.html

Remi Nicole
http://monicamania.blogdrive.com/archive/4258.html

Rob. A!
http://monicamania.blogdrive.com/archive/5573.html

Rosette
http://monicamania.blogdrive.com/archive/2460.html

Ruth-Anne Cunningham
http://monicamania.blogdrive.com/archive/2406.html

Sabrina Washington
http://monicamania.blogdrive.com/archive/4702.html

Samantha Jade
http://monicamania.blogdrive.com/archive/1962.html

Second Nature
http://monicamania.blogdrive.com/archive/2143.html

Shamora Crawford
http://monicamania.blogdrive.com/archive/2183.html

Silena Murrell
http://monicamania.blogdrive.com/archive/1565.html

Silya Nymoen
http://monicamania.blogdrive.com/archive/3315.html

Stefani Vara
http://monicamania.blogdrive.com/archive/2044.html

Steph Jones
http://monicamania.blogdrive.com/archive/2447.html

Sterling Simms
http://monicamania.blogdrive.com/archive/5725.html

StooShe
http://monicamania.blogdrive.com/archive/5440.html

The Veronicas
http://monicamania.blogdrive.com/archive/2864.html

The Writing Camp
http://monicamania.blogdrive.com/archive/3537.html

Tiffany Affair
http://monicamania.blogdrive.com/archive/1841.html

Tiffany Starr
http://monicamania.blogdrive.com/archive/3421.html

Toby Gad
http://monicamania.blogdrive.com/archive/4409.html

Tori Alamaze
http://monicamania.blogdrive.com/archive/1771.html

Torica
http://monicamania.blogdrive.com/archive/2991.html

Tynisha Keli
http://monicamania.blogdrive.com/archive/1864.html

Tynisha Keli (2)
http://monicamania.blogdrive.com/archive/4887.html

Victoria "Lady V" Horn
http://monicamania.blogdrive.com/archive/3725.html

Wynter Gordon
http://monicamania.blogdrive.com/archive/2006.html


---
BLOG ROLL

*Musicians' Galore - Sister Blog*
http://musiciansgalore.blogdrive.com

Best Rumor
http://www.bestrumor.com

Bronx River Parkway
http://www.bronxriverparkway.com/gossip

California Rumor
http://www.californiarumor.com

Celeb Binge
http://www.celebbinge.com

Celebs Planet
http://celebsplanet.blogspot.com

Chad Beatz
http://www.chadbeatz.com

Cigna Sight And Sound
http://cignasightandsound.blogspot.com

Daily Replay
http://dailyreplay.blogspot.com

Estrella Urbana
http://estrellaurbana.blogspot.com

Funky Media
http://funky-media.blogspot.com

J's Random Corner
http://i-am-random-j.blogspot.com

Juicy Scoop
http://juiicyscoop.blogspot.com

Kanaete
http://kanaete-jpop.blogspot.com

Mia's Meddlings
http://musicandlyrics.ibloggie.com

Music, Gossip, & More
http://musicgossipmore.blogspot.com

Musicology 101
http://musicology-101.blogspot.com

Never Forgotten
http://neverforgotten.wordpress.com

Ohhh! Crap
http://www.ohhcrapp.net/

Pop Music Kingdom
http://popmusickingdom.blogspot.com

R&B Junk
http://www.rnbjunk.com

R&B Music Blog
http://www.rnbmusicblog.com

Rory And Summer Show
http://www.roryandsummer.com

Simon's Rag
http://simonsrag.blogspot.com

Singers Room Blog
http://blog.singersroom.com

Solitaire Redux
http://solitairereduxv3.blogspot.com

Str8 Outta NYC
http://www.str8nyc.com

The Next 2 Shine
http://www.thenext2shine.com

That Grape Juice
http://www.thatgrapejuice.com

The Fashioniste
http://www.thefashioniste.com

The Gospel Fill-Up
http://thefillup.blogspot.com

The Lair
http://crazyandconfuzed.blogspot.com