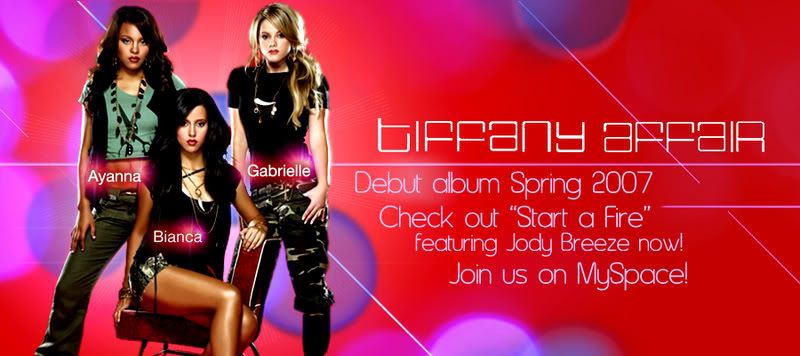 New girlband Tiffany Affair captured our hearts with their instantly catchy single "Start A Fire", which was produced by hitmakers Stargate (Beyonce' "Irreplaceable", Ne-Yo's "So Sick"). The girls are currently putting the final touches on their upcoming debut album "Flavors", and it promises to boast equally catchy joints like "SAF" if not more! I caught up with beautiful band-member Bianca to talk about the album, Tiffany Affair's collaborations wish-list, what sets them apart from other new girlbands, and so much more … Enjoy the interview, and don't forget to post your thoughts :)
---
What made you choose Tiffany Affair as a stage name?
It was actually pretty funny how we came up with the name. The name of the group actually came from how the group really began. The location in which we began recording together was at this old Tiffany jewelry warehouse on this street called Tiffany Blvd. Also all of the obstacles and tough situations we have faced are what many people may consider a BIG affair. Therefore, the hard work that it took to make it this far was a Tiffany Affair.

Tell us about your debut album "Flavors"? And when is it coming out (cuz we've been waiting long enough)?
Our album "Flavors" will be released in spring 2007. What's cool about this album is that each song has something different to offer to the listener. We express different things that many of our listeners will be able to relate to. We also feel like each song satisfies different moods of a person. For example one song is upbeat and may make you feel good and want to dance while another song is soft, sweet, and make you feel peaceful and content.

How was it like working with producers Stargate, who did your single "Start a Fire"?
It was a lot of fun working with the producers Stargate. It's always fantastic to meet and work with new people who are also extremely talented.

Tell us about some of your favorite songs from the album? And what does each one mean to you?
Some of our favorite songs include "Boy", "Rain", and "Over it". "Boy" is a really sweet song that describes how much you adore that special guy in your life. Similarly, "Rain" describes the adoration we have toward someone and describes how much we appreciate that that special person in our lives is truly there for us. "Over it" is a more upbeat song that describes our strength to finally overcome a painful heartbreak.

Whom have you worked with in terms of producers and songwriters besides Stargate?
Besides Stargate, we have worked with producers such as JerZ and Clay of Takeover Entertainment, Kaygee from Naughty by Nature and many more.

And which songwriters/producers you'd love to hook up with in the future?
We would each really love to work with people such as Neyo, Craig David, Quincy Jones, and Diane Warren.

2007 will see many new artists launching their careers and debut albums. What do you think sets Tiffany Affair apart from the rest? And do you feel the pressure?
We most definitely feel the pressure! But we can also definitely say that we have a different sound that sets us apart from others. Also, unlike most groups that have been hand selected and put together, we've pretty much picked each other because we've been friends for such a long time.


Do you all get along? Or you usually have differences in opinions?
We usually get along pretty well. As friends it's only normal to sometimes have differences in opinions. But, we usually settle all of our differences. Nothing can really break the bond of our friendship.

What do you have to say to those who claim that Tiffany affair are just another manufactured girl group?
We want them to know that unlike most groups that have been manufactured, we've been friends for many years so we've basically selected each other to be in this group.
Why do you think most girl groups lack career longevity? And do you think Tiffany Affair has what it takes to make it in the long run?
We feel like most of the time girl groups lack career longevity because of personal disputes. It's been noticed that many of these disputes and disagreements have broken up groups in the past. We each feel like we have the potential to make it in the long run. A long career in this industry isn't promised to anyone, but we have the drive, passion, and perseverance to take it as far as we can.
When Tiffany Affair first came out, you were a quartet along with Natasha. Why did she leave the band? And do you think it's less or more difficult when it's a trio?
Bianca politely declined to answer this question!

What would the readers of Monica's Blog be surprised to learn about each member of Tiffany Affair?
One surprising thing they should be surprised to learn is that we each met in a singing program. We were each so different from each other but our love for performing bonded us, creating a very unique yet good friendship.

Which artists each one of you likes listening to?
We all really like listening to artists such as Michael Jackson, Akon, John Legend, Justin Timberlake, Boys II Men, Mario Vasquez, Alicia Keys, Beyonce, Lil Wayne, Craig David, and Busta Rhymes.

What do the members of Tiffany Affair look for in a man? And are you dating anyone at the moment?
We can each agree that we're looking for a guy with a vibrant personality. Each of us definitely likes someone who is fun, sweet and down to earth. Each of us is SINGLE :-)

Have you thought about visiting any Arabic country? If so, which one would be your first choice?
The United Arab Emirates of course! :-)

What message you'd like to give to yours fans all over the world?
We would each like to let everyone know that we hope that you enjoy our music and that we truly appreciate all the love and support that you all have shown us so far. Most importantly, if you dream of doing something, go for it! That is what each of us have been doing and if we can do it so can you. We love you all!