Friday, March 16, 2007
FORGET LAX, TANK IS IN DA HOUSE Y'ALL!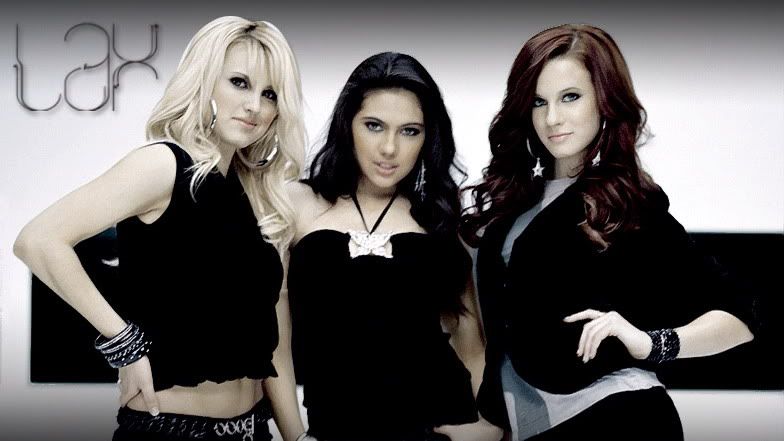 New girlgroup LAX are currently putting the final touches on their upcoming debut album, which is due later this year via Blackground Records. The new set will include joints like catchy lead single "Forget You", and collaborations with producers/songwriters Soulshock & Karlin (Whitney Houston, Blu Cantrell), Alex Cantrall (Toni Braxton, Ashley Parker Angel) and Durrell "Tank" Babbs (Aaliyah, Marques Houston).
Speaking of Tank, his next album is due either in May or June. Songwriter Keri Hilson (Mary J. Blige, Nicole Scherzinger) and producers The Underdogs (Ruben Studdard, Omarion) are among the album's collaborators. The "Please Don't Go" singer is also penning hits on the next albums by Keke Wyatt, Kelly Rowland (he produced the second single off "Miss Kelly", which is "Ghetto" featuring Snoop Dogg) and Claudette Ortiz, so make sure you check dem hot joints when they come out ;)
Posted at 11:25 pm by
mokhal
Permalink
YAMIN DRAFTS STARGATE FOR DEBUT ALBUM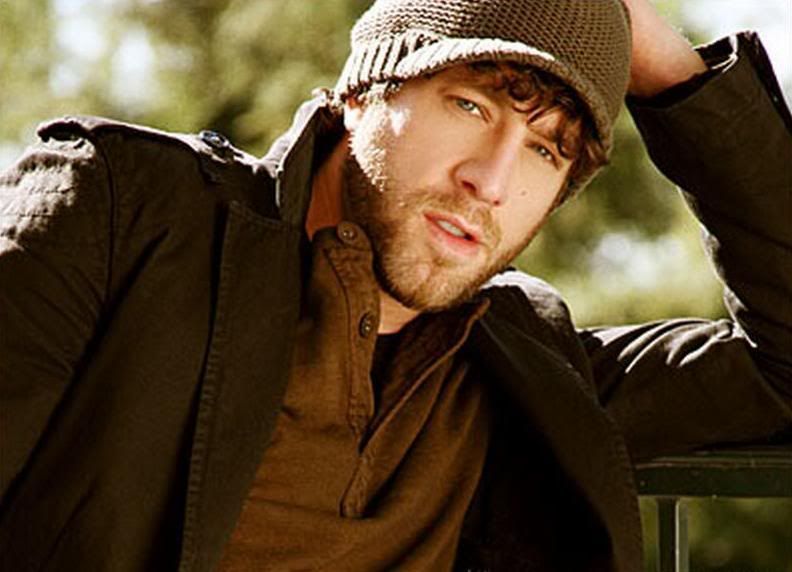 Fans of production team Stargate will be happy to learn that they produced 2 tracks on ex-American Idol contestant Elliot Yamin's self-titled debut album, which is due 20th March via Hickory Records. The joints in question are "Wait For You" and "One Word". Both tracks were co-written by Michael Jackson's nephew and former 3T member Taj Jackson, who previously collaborated with Stargate on Lionel Richie' "I Call It Love" and Kelis' "Guilty (About To Hate Me)".
Posted at 10:27 pm by
mokhal
Permalink
Thursday, March 15, 2007
BEYONCE - B'DAY [DELUXE EDITION - OFFICIAL TRACK LIST]
Here is the official tracklisting to Beyonce's deluxe edition of her sophomore album "B'Day", which is due 3rd April via Sony Music. The re-released set includes 5 new songs and they are: "Beautiful Liar" (featuring Shakira), "Still In Love (Kissing You)", "Welcome To Hollywood", "World Wide Woman" and "Flaws And All". "B'Day" also boasts collaborations with producers/songwriters Kasseem "Swizz Beatz" Dean (Jennifer Lopez, Gwen Stefani), Sean Garrett (Kelis, Jamie Foxx), Stargate (Jessica Simpson, Lionel Richie), Makeba Riddick (Mya, Fantasia), Amanda Ghost (Kylie Minogue, Janet Jackson), Ne-Yo (Britney Spears, Christina Milian), Rodney Jerkins (Whitney Houston, Mariah Carey), Rich Harrison (Christina Aguilera, Amerie) and The Neptunes (Alicia Keys, Angie Stone).
"B'Day" – Deluxe Edition (Official Tracklisting - Disc 1)
Beautiful Liar
Irreplaceable
Welcome To Hollywood
Greenlight
Kitty Kat
Upgrade U
Flaws And All
Still In Love (Kissing You)
Get Me Bodied (Extended Mix)
Freakum Dress
Suga Mama
Déjà vu
Ring The Alarm
Resentment
World Wide Woman
"B'Day" – Deluxe Edition (Official Tracklisting - Disc 2)
Amor Gitano
Listen (Oye)
Irreplaceable (Irreemplazable)
Beautiful Liar (Bello Embustero)
Beautiful Liar (Remix)
Beautiful Liar (Spanglish)
Irreplaceable (Irreemplazable - Nortena Remix)
Beyonce is also throwing a show in Houston, Texas @ 15th March, and guess who'll be the opening act? None other than Timbaland's protégé Kiley Dean! Hopefully this chance of a lifetime will lead to her getting signed again by a major recording company, and release another spectacular album just like her shelved debut "Simple Girl", if not better!
Posted at 02:10 am by
mokhal
Permalink
Tuesday, March 13, 2007
HILSON GOES HEAD 2 HEAD WITH AUSTIN
Songwriters Keri Hilson and Johnta Austin are going head to head this week since two artists they've worked with are releasing their albums today (as in 13th March 2007) and will be fighting for the top spot on next week's Billboard 200 Albums Chart! R&B crooner Lloyd's sophomore album "Street Love" contains two songs penned by Austin, and they are "Certified" and "I Don't Mind". Hilson on the other hand is featured on two tracks taken from Rich Boy's self-titled debut album and they are "Good Things" and "Lost Girls".
Hilson's upcoming debut album will sport collaborations with producers Jamal "Polow Da Don" Jones (Jamie Foxx, Keyshia Cole), Tim "Timbaland" Mosely (Alicia Keys, Nelly Furtado), Nate "Danja" Hills (Katharine McPhee, Natasha Bedingfield) and Justin Timberlake (Macy Gray, JC Chasez). The "Hands and Feet" singer is also penning tracks on the next albums by Britney Spears, Paula Campell and Durrell "Tank" Babbs.
Austin's "Ocean Drive" will feature joints like "Hood Love" featuring Mary J. Blige, as well as productions courtesy of Teddy Bishop (Sterling Simms, LeToya Luckett), Jermaine Dupri (Mariah Carey, Brooke Valentine), Scott Storch (Silena Murrell, Kelis), Bryan Michael Cox (Chante Moore, Deborah Cox) and No I.D. (Toni Braxton, Janet Jackson). Expect more beautiful songwriting from the "Turn It Up" singer on the next albums by Whitney Houston, Mya, Mario Barrett, Chris Brown and Enrique Iglesias.
Posted at 11:32 pm by
mokhal
Permalink
Here's an exclusive for all you readers of Monica Mania's blog … This track is called "Have It All" and it's beautifully performed by singer/songwriter Lisa Simmons, whom I had the pleasure of interviewing few weeks back. "Have It All" was produced by Flintstone, whose other production credits include Kelly Rowland's "Tell Me" and Fantasia's "No More". Enjoy :)
[Listen] Lisa Simmons - Have It All
[Visit] Lisa Simmons on MySpace
Posted at 10:57 pm by
mokhal
Permalink
Monday, March 12, 2007
JOSS STONE - INTRODUCING JOSS STONE [ALBUM CREDITS]
As it has been previously reported, British songstress Joss Stone's upcoming 3rd album "Introducing Joss Stone" is due March 20th via Virgin Records. The new set sports collaborations with songwriters/producers Raphael Saadiq (John Legend, Kelis), Novel (Soshy, Sugababes), Beau Dozier (Samantha Jade, Nicole Scherzinger), Billy Mann (Kelly Rowland's "Still In Love With My X", Pink's "Stupid Girls") and Diane Warren (Mariah Carey's "After Tonight", Whitney Houston's "I Learned From The Best").
Here are some of the album's credits (those that I was able to gather so far, hee hee)!
Raphael Saadiq produced: - "Girl They Won't Believe It", "Tell Me 'Bout It", "Put Your Hands On Me", "Proper Nice", "What Were We Thinking" and "Music (Outro)".
Novel produced: - "Music" (featuring Lauryn Hill) and "Tell Me What We're Gonna Do Now" (featuring Common).
Beau Dozier produced: - "There's Nothing Better Than" (Itunes Bonus Track).
Billy Mann co-wrote: - "Headturner".
Diane Warren wrote: - "Bruised But Not Broken".
Posted at 01:07 am by
mokhal
Permalink
Sunday, March 11, 2007
TRINITY STONE ARE NO MORE ....
Seems like upcoming British girl group Trinity Stone have decided to call it a day since it has been recently reported that ex-band member Jade Ewen (centre) left the band to pursue a solo career, and she's currently signed to RCA Records. This is really sad cuz I was SO looking forward to their album, but nevertheless, I wish each one of them the best of luck!
Trinity Stone's debut album, which probably got shelved by now, contained collaborations with songwriters/producers Cee-Lo (Faith Evans, Kelis), Ne-Yo (Megan Rochell, Candace Jones), Stargate (Rihanna, Lionel Richie), Soulshock & Karlin (Whitney Houston, Toni Braxton), Pete Biker (Britney Spears, Jamelia), Karen Poole (Sugababes, Lily Allen) and Johnny Douglas (Alesha Dixon, Kylie Minogue). Whatta shame, right?!!!
Posted at 01:43 am by
mokhal
Permalink
Saturday, March 10, 2007
MUMBA SHOWS MULTIPLE PERSONALITIES ON NEW SINGLE
"Personalities" is set to be the lead single from Irish songstress Samantha Mumba's upcoming 3rd album due later this year via Universal Records. Other tracks that are confirmed on the album include "Angel" and "Rear View". Mumba is also rumored to be one of the judges on the new season of British hit TV show X Factor which launched the career of up and coming singer Leona Lewis, and she's currently recording her debut album after she signed a multi-million record deal with Clive Davis' J Records.
Posted at 10:55 pm by
mokhal
Permalink
Friday, March 09, 2007
[MONICA MANIA INTERVIEW] TIFFANY AFFAIR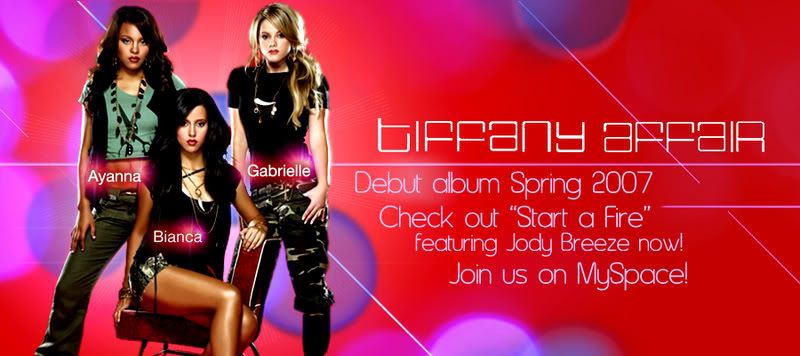 New girlband Tiffany Affair captured our hearts with their instantly catchy single "Start A Fire", which was produced by hitmakers Stargate (Beyonce' "Irreplaceable", Ne-Yo's "So Sick"). The girls are currently putting the final touches on their upcoming debut album "Flavors", and it promises to boast equally catchy joints like "SAF" if not more! I caught up with beautiful band-member Bianca to talk about the album, Tiffany Affair's collaborations wish-list, what sets them apart from other new girlbands, and so much more … Enjoy the interview, and don't forget to post your thoughts :)
---
What made you choose Tiffany Affair as a stage name?
It was actually pretty funny how we came up with the name. The name of the group actually came from how the group really began. The location in which we began recording together was at this old Tiffany jewelry warehouse on this street called Tiffany Blvd. Also all of the obstacles and tough situations we have faced are what many people may consider a BIG affair. Therefore, the hard work that it took to make it this far was a Tiffany Affair.

Tell us about your debut album "Flavors"? And when is it coming out (cuz we've been waiting long enough)?
Our album "Flavors" will be released in spring 2007. What's cool about this album is that each song has something different to offer to the listener. We express different things that many of our listeners will be able to relate to. We also feel like each song satisfies different moods of a person. For example one song is upbeat and may make you feel good and want to dance while another song is soft, sweet, and make you feel peaceful and content.

How was it like working with producers Stargate, who did your single "Start a Fire"?
It was a lot of fun working with the producers Stargate. It's always fantastic to meet and work with new people who are also extremely talented.

Tell us about some of your favorite songs from the album? And what does each one mean to you?
Some of our favorite songs include "Boy", "Rain", and "Over it". "Boy" is a really sweet song that describes how much you adore that special guy in your life. Similarly, "Rain" describes the adoration we have toward someone and describes how much we appreciate that that special person in our lives is truly there for us. "Over it" is a more upbeat song that describes our strength to finally overcome a painful heartbreak.

Whom have you worked with in terms of producers and songwriters besides Stargate?
Besides Stargate, we have worked with producers such as JerZ and Clay of Takeover Entertainment, Kaygee from Naughty by Nature and many more.

And which songwriters/producers you'd love to hook up with in the future?
We would each really love to work with people such as Neyo, Craig David, Quincy Jones, and Diane Warren.

2007 will see many new artists launching their careers and debut albums. What do you think sets Tiffany Affair apart from the rest? And do you feel the pressure?
We most definitely feel the pressure! But we can also definitely say that we have a different sound that sets us apart from others. Also, unlike most groups that have been hand selected and put together, we've pretty much picked each other because we've been friends for such a long time.


Do you all get along? Or you usually have differences in opinions?
We usually get along pretty well. As friends it's only normal to sometimes have differences in opinions. But, we usually settle all of our differences. Nothing can really break the bond of our friendship.

What do you have to say to those who claim that Tiffany affair are just another manufactured girl group?
We want them to know that unlike most groups that have been manufactured, we've been friends for many years so we've basically selected each other to be in this group.
Why do you think most girl groups lack career longevity? And do you think Tiffany Affair has what it takes to make it in the long run?
We feel like most of the time girl groups lack career longevity because of personal disputes. It's been noticed that many of these disputes and disagreements have broken up groups in the past. We each feel like we have the potential to make it in the long run. A long career in this industry isn't promised to anyone, but we have the drive, passion, and perseverance to take it as far as we can.
When Tiffany Affair first came out, you were a quartet along with Natasha. Why did she leave the band? And do you think it's less or more difficult when it's a trio?
Bianca politely declined to answer this question!

What would the readers of Monica's Blog be surprised to learn about each member of Tiffany Affair?
One surprising thing they should be surprised to learn is that we each met in a singing program. We were each so different from each other but our love for performing bonded us, creating a very unique yet good friendship.

Which artists each one of you likes listening to?
We all really like listening to artists such as Michael Jackson, Akon, John Legend, Justin Timberlake, Boys II Men, Mario Vasquez, Alicia Keys, Beyonce, Lil Wayne, Craig David, and Busta Rhymes.

What do the members of Tiffany Affair look for in a man? And are you dating anyone at the moment?
We can each agree that we're looking for a guy with a vibrant personality. Each of us definitely likes someone who is fun, sweet and down to earth. Each of us is SINGLE :-)

Have you thought about visiting any Arabic country? If so, which one would be your first choice?
The United Arab Emirates of course! :-)

What message you'd like to give to yours fans all over the world?
We would each like to let everyone know that we hope that you enjoy our music and that we truly appreciate all the love and support that you all have shown us so far. Most importantly, if you dream of doing something, go for it! That is what each of us have been doing and if we can do it so can you. We love you all!
Posted at 11:38 pm by
mokhal
Permalink
ESTELLE SNAGS LEGEND AND WILL-I-AM FOR SOPHOMORE ALBUM
Sexy R&B crooner/songwriter/producer John Legend is currently working on his own music label, and it's called Home School. The first artist he signed is British rapper/songstress Estelle, whom you might recall from her verses on Natasha Bedingfield's "Drop Me In The Middle" and Faithless' "Why Go?". Besides having Legend executively producing her upcoming sophomore album, Estelle also snagged mega producer Will-I-Am for the project.
Other projects lined up for the "Save Room" singer include booking studio time with artists like Alicia Keys, Jennifer Hudson, Whitney Houston, Keyshia Cole and new Def Jam signees Karina Pasian and Chrisette Michele. 2007 is definitely brining "Old School R&B" back!
Posted at 11:02 pm by
mokhal
Permalink
---
Contact Me:-------
Email: supa_monica@yahoo.com
Facebook: http://www.facebook.com/hamada.licious
Twitter: http://twitter.com/supaham
BB Pincode: 25E267B6
Sister Blog - Easy Target: http://easytarget.blogdrive.com

---
MONICA MANIA INTERVIEWS

Adama
http://monicamania.blogdrive.com/archive/1793.html

Alex Reid
http://monicamania.blogdrive.com/archive/4230.html

Andrew "Pop" Wansel
http://monicamania.blogdrive.com/archive/5750.html

Angela Hunte
http://monicamania.blogdrive.com/archive/3760.html

Aria Crescendo of Paradiso Girls
http://monicamania.blogdrive.com/archive/3943.html

Asia Cruise
http://monicamania.blogdrive.com/archive/2618.html

Autumn Rowe
http://monicamania.blogdrive.com/archive/5218.html

Bayje
http://monicamania.blogdrive.com/archive/3826.html

Beau Dozier
http://monicamania.blogdrive.com/archive/1807.html

Benny Blanco
http://monicamania.blogdrive.com/archive/4440.html

Black Buddafly
http://monicamania.blogdrive.com/archive/1591.html

Brit & Alex
http://monicamania.blogdrive.com/archive/1852.html

Canela Cox
http://monicamania.blogdrive.com/archive/1656.html

Carsten "Soulshock" Schack
http://monicamania.blogdrive.com/archive/1725.html

Celena Cherry [of The Honeyz]
http://monicamania.blogdrive.com/archive/1751.html

Chantel McCrary
http://monicamania.blogdrive.com/archive/6486.html

Charmayne "Maxee" Maxwell [of Brownstone]
http://monicamania.blogdrive.com/archive/1913.html

Cleo Higgins [of Cleopatra]
http://monicamania.blogdrive.com/archive/1739.html

Cover Drive
http://monicamania.blogdrive.com/archive/5388.html

Cristyle "The Ink" Johnson
http://monicamania.blogdrive.com/archive/2654.html

Darren Lewis of Future Cut
http://monicamania.blogdrive.com/archive/4383.html

Dildo Cop
http://monicamania.blogdrive.com/archive/2385.html

Edwin "Lil' Eddie" Serrano
http://monicamania.blogdrive.com/archive/2790.html

Emily King
http://monicamania.blogdrive.com/archive/1992.html

Erika Rose
http://monicamania.blogdrive.com/archive/2083.html

Evan "Kidd" Bogart
http://monicamania.blogdrive.com/archive/2337.html

Goapele
http://monicamania.blogdrive.com/archive/2551.html

Jack Splash
http://monicamania.blogdrive.com/archive/4618.html

JADA
http://monicamania.blogdrive.com/archive/2631.html

Jason Derulo
http://monicamania.blogdrive.com/archive/4464.html

Jazzy
http://monicamania.blogdrive.com/archive/1709.html

Jeannie Ortega
http://monicamania.blogdrive.com/archive/1980.html

Jessi Malay
http://monicamania.blogdrive.com/archive/2068.html

Jessica Jarrell
http://monicamania.blogdrive.com/archive/5268.html

Johnny Douglas
http://monicamania.blogdrive.com/archive/1678.html

Joi Marshall
http://monicamania.blogdrive.com/archive/2311.html

Jonas "Jay Jay" Jeberg
http://monicamania.blogdrive.com/archive/4214.html

Jonathan "J.R." Rotem
http://monicamania.blogdrive.com/archive/2032.html

Karen Poole
http://monicamania.blogdrive.com/archive/1878.html

Karen Poole # 2
http://monicamania.blogdrive.com/archive/3783.html

Karina Pasian
http://monicamania.blogdrive.com/archive/1691.html

Kasey Butler
http://monicamania.blogdrive.com/archive/1537.html

Katie Holmes
http://monicamania.blogdrive.com/archive/2055.html

Keisha White
http://monicamania.blogdrive.com/archive/2364.html

Lea
http://monicamania.blogdrive.com/archive/1668.html

Lisa Simmons
http://monicamania.blogdrive.com/archive/1826.html

Livvi Franc
http://monicamania.blogdrive.com/archive/3627.html

Lolene
http://monicamania.blogdrive.com/archive/4328.html

Lonny Bereal
http://monicamania.blogdrive.com/archive/5462.html

Lucy Walsh
http://monicamania.blogdrive.com/archive/2425.html

Lyrica Anderson
http://monicamania.blogdrive.com/archive/5700.html

Makeba Riddick
http://monicamania.blogdrive.com/archive/1614.html

Maria Hamer Jensen
http://monicamania.blogdrive.com/archive/1899.html

Marsha Ambrosius
http://monicamania.blogdrive.com/archive/3656.html

Matisse
http://monicamania.blogdrive.com/archive/4841.html

Meleni Smith
http://monicamania.blogdrive.com/archive/4476.html

Meleni Smith (2)
http://monicamania.blogdrive.com/archive/5820.html

Michelle Bell of Lynn & Wade LLP
http://monicamania.blogdrive.com/archive/2247.html

Michelle Escoffery
http://monicamania.blogdrive.com/archive/1640.html

Myxx
http://monicamania.blogdrive.com/archive/2229.html

Neon Hitch
http://monicamania.blogdrive.com/archive/5685.html

Nicole Morier
http://monicamania.blogdrive.com/archive/3675.html

NiRe Alldai
http://monicamania.blogdrive.com/archive/5301.html

Patrick "J.Que" Smith
http://monicamania.blogdrive.com/archive/2479.html

Paula Campbell
http://monicamania.blogdrive.com/archive/2163.html

Paula DeAnda
http://monicamania.blogdrive.com/archive/4202.html

Peach Candy: Rasheeda & Kandi Burruss
http://monicamania.blogdrive.com/archive/2276.html

Pixie Lott
http://monicamania.blogdrive.com/archive/3853.html

Reginald "Syience" Perry
http://monicamania.blogdrive.com/archive/4638.html

Remi Nicole
http://monicamania.blogdrive.com/archive/4258.html

Rob. A!
http://monicamania.blogdrive.com/archive/5573.html

Rosette
http://monicamania.blogdrive.com/archive/2460.html

Ruth-Anne Cunningham
http://monicamania.blogdrive.com/archive/2406.html

Sabrina Washington
http://monicamania.blogdrive.com/archive/4702.html

Samantha Jade
http://monicamania.blogdrive.com/archive/1962.html

Second Nature
http://monicamania.blogdrive.com/archive/2143.html

Shamora Crawford
http://monicamania.blogdrive.com/archive/2183.html

Silena Murrell
http://monicamania.blogdrive.com/archive/1565.html

Silya Nymoen
http://monicamania.blogdrive.com/archive/3315.html

Stefani Vara
http://monicamania.blogdrive.com/archive/2044.html

Steph Jones
http://monicamania.blogdrive.com/archive/2447.html

Sterling Simms
http://monicamania.blogdrive.com/archive/5725.html

StooShe
http://monicamania.blogdrive.com/archive/5440.html

The Veronicas
http://monicamania.blogdrive.com/archive/2864.html

The Writing Camp
http://monicamania.blogdrive.com/archive/3537.html

Tiffany Affair
http://monicamania.blogdrive.com/archive/1841.html

Tiffany Starr
http://monicamania.blogdrive.com/archive/3421.html

Toby Gad
http://monicamania.blogdrive.com/archive/4409.html

Tori Alamaze
http://monicamania.blogdrive.com/archive/1771.html

Torica
http://monicamania.blogdrive.com/archive/2991.html

Tynisha Keli
http://monicamania.blogdrive.com/archive/1864.html

Tynisha Keli (2)
http://monicamania.blogdrive.com/archive/4887.html

Victoria "Lady V" Horn
http://monicamania.blogdrive.com/archive/3725.html

Wynter Gordon
http://monicamania.blogdrive.com/archive/2006.html


---
BLOG ROLL

*Musicians' Galore - Sister Blog*
http://musiciansgalore.blogdrive.com

Best Rumor
http://www.bestrumor.com

Bronx River Parkway
http://www.bronxriverparkway.com/gossip

California Rumor
http://www.californiarumor.com

Celeb Binge
http://www.celebbinge.com

Celebs Planet
http://celebsplanet.blogspot.com

Chad Beatz
http://www.chadbeatz.com

Cigna Sight And Sound
http://cignasightandsound.blogspot.com

Daily Replay
http://dailyreplay.blogspot.com

Estrella Urbana
http://estrellaurbana.blogspot.com

Funky Media
http://funky-media.blogspot.com

J's Random Corner
http://i-am-random-j.blogspot.com

Juicy Scoop
http://juiicyscoop.blogspot.com

Kanaete
http://kanaete-jpop.blogspot.com

Mia's Meddlings
http://musicandlyrics.ibloggie.com

Music, Gossip, & More
http://musicgossipmore.blogspot.com

Musicology 101
http://musicology-101.blogspot.com

Never Forgotten
http://neverforgotten.wordpress.com

Ohhh! Crap
http://www.ohhcrapp.net/

Pop Music Kingdom
http://popmusickingdom.blogspot.com

R&B Junk
http://www.rnbjunk.com

R&B Music Blog
http://www.rnbmusicblog.com

Rory And Summer Show
http://www.roryandsummer.com

Simon's Rag
http://simonsrag.blogspot.com

Singers Room Blog
http://blog.singersroom.com

Solitaire Redux
http://solitairereduxv3.blogspot.com

Str8 Outta NYC
http://www.str8nyc.com

The Next 2 Shine
http://www.thenext2shine.com

That Grape Juice
http://www.thatgrapejuice.com

The Fashioniste
http://www.thefashioniste.com

The Gospel Fill-Up
http://thefillup.blogspot.com

The Lair
http://crazyandconfuzed.blogspot.com