Thursday, April 26, 2007
NINA SKY SET DATE FOR SOPHOMORE ALBUM
According to MTV News, the release date for Latin pop duo Nina Sky's upcoming sophomore album "The Musical" is July 17th via Universal Records. The new set will be preceded by lead single "Clothes Off", whereas Schaffer "Ne-Yo" Smith (Heather Headley, Marques Houston), Stargate (Claudette Ortiz, Shola Ama), Salaam Remi (Ms. Dynamite, Amy Winehouse), Karen Poole (Mutya Buena, Leona Lewis), Cool & Dre (Keyshia Cole, Mary J. Blige), Scott Storch (Janet Jackson, Toni Braxton) and Ryan Leslie (Britney Spears, Megan Rochell) are among the songwriters/producers lending their contributions on the album.
Posted at 10:45 pm by
mokhal
Permalink
DEBORAH COX - DESTINATION MOON [ALBUM COVER]
Here is the cover for Deborah Cox's upcoming album "Destination Moon", which is due June 19th via Decca Records. The new set will include covers of jazz classics such as "All Of Me", "I Don't Hurt Anymore", "Misery", "What A Diff'rence A Day Made" and "This Bitter Earth". I can't say that I'm looking forward to "Destination Moon" as much as her forthcoming R&B album which is rumored to be released later this year, but all in all, I wish the Canadian songstress all the best :)
Posted at 03:23 pm by
mokhal
Permalink
British recording artist Remi Nicole is currently putting the final touches on her yet-untitled debut album which will come out later this year via Island/Universal Records. Tracks that are tipped for inclusion on the new set include "Rock N Roll", "New Old Days", "Go With The Flow" and lead single "Fed Up". Producers Johnny Douglas (Amerie, Jennifer Lopez) and Future Cut (Lily Allen, Nicole Scherzinger) are among the album's collaborators.
Posted at 02:37 am by
mokhal
Permalink
Tuesday, April 24, 2007
R&B songstress Jazzy wrote a new message on her official MySpace profile announcing that she recently signed a major deal with actor/singer Jamie Foxx's new publishing company Foxx King Entertainment. The "In Love" singer is also working on the follow up to her debut album "Oh Jazzy", which was released independently late last year. I'm expecting some hot collabos this time around, so stay tuned!
Posted at 01:58 am by
mokhal
Permalink
Monday, April 23, 2007
SCHERZINGER AND BLIGE HOOK UP WITH CURTIS THIS JUNE
Pussycat Dolls' lead singer Nicole Scherzinger & R&B songstress Mary J. Blige have been confirmed as guest artists on rapper 50 Cent's upcoming 3rd album "Curtis" due June 26th via Interscope Records. Scherzinger is also putting the final touches on her forthcoming debut album "Her Name Is Nicole", which will be released later this year via A&M records and expected to sport collaborations with Bryan Michael Cox (Brandy, Toni Braxton), Kara Dioguardi (Kylie Minogue, Natalie Imbruglia), Jamal "Polow Da Don" Jones (Kelly Rowland, Fergie), Will "Will-I-Am" Adams (Justin Timberlake, Macy Gray), Kanye West (Lilly Allen, Janet Jackson), Akon (Mario Barrett, Brick & Lace), Tim "Timbaland" Mosley (Rihanna, Jennifer Lopez) and Sean Garrett (Britney Spears, Gwen Stefani).
Posted at 09:04 pm by
mokhal
Permalink
Hip Hop producer Dame Grease revealed in an interview with MTV that he's working with R&B vocalist Kelis on new material, and he's pushing for one of the joints to be a single. I guess this means that our beloved songstress is back in the studio, and I honestly couldn't be any happier, especially since the sales figures of her last album "Kelis Was Here" weren't very encouraging! It's also important to not that this is not the first time Grease collaborates with the "Bossy" singer, as their initial placement was on the track "Stick Up", taken from her 3rd album "Tasty". Other producers expected to lend their contributions on the new set include Raphael Saadiq (Joss Stone, John Legend), Shondrae "Bangladesh" Crawford (Ciara, Missy Elliot) and Jamal "Polow Da Don" Jones (Keyshia Cole, Christina Aguilera).
Posted at 07:27 pm by
mokhal
Permalink
AUSTIN AND DUPRI WIN BIG @ THE ASCAP AWARDS 2007
I'd like to congratulate songwriter Johnta Austin and producer Jermaine Dupri for winning the title "Songwriter of the Year" at the ASCAP awards, which was held on 18th April at the Kodak Centre, Los Angeles. They shared the award for penning successful tracks such as: Chris Brown's "Yo (Excuse Me Miss)", Mary J. Blige's "Be Without You", Bow Wow's "Like You" featuring Ciara, and Mariah Carey's "Don't Forget About Us".
Austin is currently writing songs on the next albums by Chris Brown (Jive Records), Whitney Houston (J Records), Mya (Motown Records) and Enrique Iglesias (Interscope Records), whereas his upcoming debut album "Ocean Drive" is expected to boast productions courtesy of Bryan Michael Cox (Nicole Scherzinger, Claudette Ortiz), Scott Storch (Kelly Rowland, Amerie), No I.D. (Common, Toni Braxton) and Teddy Bishop (LeToya Luckett, Aaliyah). Dupri, on the other hand, is belting out joints on the forthcoming albums by Usher (Jive Records), Ashanti (Def Jam Records), Mariah Carey (Def Jam Records), 3LW (Jive Records) and Janet Jackson (Virgin Records).
Posted at 07:22 pm by
mokhal
Permalink
British R&B songstress Javine posted a new song on her official MySpace profile called "Make You Mine", and the track is part of her upcoming sophomore album, which will be released independently later this year via indie label Hylton Entertainment. Javine's debut album "Surrender" spawned hits like "Real Things" and a cover of Jade's 90s smash "Don't Walk Away", as well as A-list productions courtesy of Stargate (Beyonce, Lionel Richie), Johnny Douglas (Jennifer Lopez, Kylie Minogue), Carsten "Soulshock" Schack (Blu Cantrell, Keyshia Cole) and Pete Biker (Jamelia, Tracie Spencer).
Posted at 01:31 am by
mokhal
Permalink
Saturday, April 21, 2007
DIXON GETS FIRED FROM RECORD LABEL
According to very reliable sources, former Misteeq member Alesha Dixon parted ways with Polydor Records after her 2 singles, "Lipstick" and "Knockdown", failed to score highly on the UK Singles Chart. This is really sad cuz I've been waiting impatiently for her debut album "Fired Up" to come out, especially since it was expected to contain hot collaborations with producers/songwriters Brian Higgins & Xenomania (Sugababes, Kylie Minogue), Richard X (Kelis, Rachel Stevens), Cathy Dennis (Janet Jackson, Britney Spears) and Mark Hill (Craig David, Christina Milian).
At the end, all I can say is, Alesha is an extremely beautiful and talented woman, and hopefully she'll get another deal with a major record company that will promote her properly. Hang in there my friend :)
Posted at 07:24 pm by
mokhal
Permalink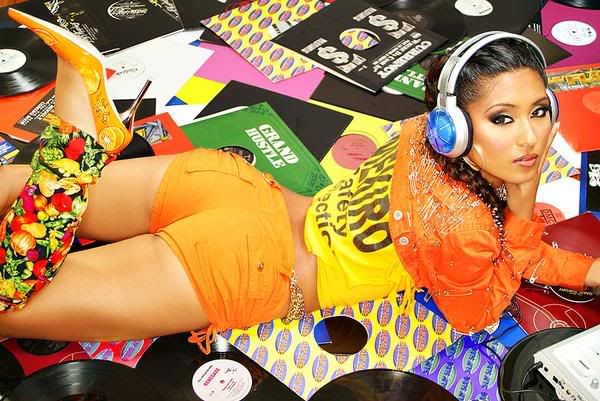 Thanx to blog reader Mary, I was aroused to learn more about Australian Pop/R&B artist Che'Nelle, and here's what I found … She's currently in America recording her forthcoming album, which is due later this year via Virgin Records. The new set will boast collaborations with producers Rich Harrison (Amerie, Christina Aguilera), Sean Garrett (Gwen Stefani, Kelly Rowland) and The Arkitects (Chris Brown, Karina Pasian). PS. Janet Jackson's reject "Pops Up" is apparently given to Che'Nelle, and I wonder if she'll do that club banga justice!
Posted at 03:02 am by
mokhal
Permalink
---
Contact Me:-------
Email: supa_monica@yahoo.com
Facebook: http://www.facebook.com/hamada.licious
Twitter: http://twitter.com/supaham
BB Pincode: 25E267B6
Sister Blog - Easy Target: http://easytarget.blogdrive.com

---
MONICA MANIA INTERVIEWS

Adama
http://monicamania.blogdrive.com/archive/1793.html

Alex Reid
http://monicamania.blogdrive.com/archive/4230.html

Andrew "Pop" Wansel
http://monicamania.blogdrive.com/archive/5750.html

Angela Hunte
http://monicamania.blogdrive.com/archive/3760.html

Aria Crescendo of Paradiso Girls
http://monicamania.blogdrive.com/archive/3943.html

Asia Cruise
http://monicamania.blogdrive.com/archive/2618.html

Autumn Rowe
http://monicamania.blogdrive.com/archive/5218.html

Bayje
http://monicamania.blogdrive.com/archive/3826.html

Beau Dozier
http://monicamania.blogdrive.com/archive/1807.html

Benny Blanco
http://monicamania.blogdrive.com/archive/4440.html

Black Buddafly
http://monicamania.blogdrive.com/archive/1591.html

Brit & Alex
http://monicamania.blogdrive.com/archive/1852.html

Canela Cox
http://monicamania.blogdrive.com/archive/1656.html

Carsten "Soulshock" Schack
http://monicamania.blogdrive.com/archive/1725.html

Celena Cherry [of The Honeyz]
http://monicamania.blogdrive.com/archive/1751.html

Chantel McCrary
http://monicamania.blogdrive.com/archive/6486.html

Charmayne "Maxee" Maxwell [of Brownstone]
http://monicamania.blogdrive.com/archive/1913.html

Cleo Higgins [of Cleopatra]
http://monicamania.blogdrive.com/archive/1739.html

Cover Drive
http://monicamania.blogdrive.com/archive/5388.html

Cristyle "The Ink" Johnson
http://monicamania.blogdrive.com/archive/2654.html

Darren Lewis of Future Cut
http://monicamania.blogdrive.com/archive/4383.html

Dildo Cop
http://monicamania.blogdrive.com/archive/2385.html

Edwin "Lil' Eddie" Serrano
http://monicamania.blogdrive.com/archive/2790.html

Emily King
http://monicamania.blogdrive.com/archive/1992.html

Erika Rose
http://monicamania.blogdrive.com/archive/2083.html

Evan "Kidd" Bogart
http://monicamania.blogdrive.com/archive/2337.html

Goapele
http://monicamania.blogdrive.com/archive/2551.html

Jack Splash
http://monicamania.blogdrive.com/archive/4618.html

JADA
http://monicamania.blogdrive.com/archive/2631.html

Jason Derulo
http://monicamania.blogdrive.com/archive/4464.html

Jazzy
http://monicamania.blogdrive.com/archive/1709.html

Jeannie Ortega
http://monicamania.blogdrive.com/archive/1980.html

Jessi Malay
http://monicamania.blogdrive.com/archive/2068.html

Jessica Jarrell
http://monicamania.blogdrive.com/archive/5268.html

Johnny Douglas
http://monicamania.blogdrive.com/archive/1678.html

Joi Marshall
http://monicamania.blogdrive.com/archive/2311.html

Jonas "Jay Jay" Jeberg
http://monicamania.blogdrive.com/archive/4214.html

Jonathan "J.R." Rotem
http://monicamania.blogdrive.com/archive/2032.html

Karen Poole
http://monicamania.blogdrive.com/archive/1878.html

Karen Poole # 2
http://monicamania.blogdrive.com/archive/3783.html

Karina Pasian
http://monicamania.blogdrive.com/archive/1691.html

Kasey Butler
http://monicamania.blogdrive.com/archive/1537.html

Katie Holmes
http://monicamania.blogdrive.com/archive/2055.html

Keisha White
http://monicamania.blogdrive.com/archive/2364.html

Lea
http://monicamania.blogdrive.com/archive/1668.html

Lisa Simmons
http://monicamania.blogdrive.com/archive/1826.html

Livvi Franc
http://monicamania.blogdrive.com/archive/3627.html

Lolene
http://monicamania.blogdrive.com/archive/4328.html

Lonny Bereal
http://monicamania.blogdrive.com/archive/5462.html

Lucy Walsh
http://monicamania.blogdrive.com/archive/2425.html

Lyrica Anderson
http://monicamania.blogdrive.com/archive/5700.html

Makeba Riddick
http://monicamania.blogdrive.com/archive/1614.html

Maria Hamer Jensen
http://monicamania.blogdrive.com/archive/1899.html

Marsha Ambrosius
http://monicamania.blogdrive.com/archive/3656.html

Matisse
http://monicamania.blogdrive.com/archive/4841.html

Meleni Smith
http://monicamania.blogdrive.com/archive/4476.html

Meleni Smith (2)
http://monicamania.blogdrive.com/archive/5820.html

Michelle Bell of Lynn & Wade LLP
http://monicamania.blogdrive.com/archive/2247.html

Michelle Escoffery
http://monicamania.blogdrive.com/archive/1640.html

Myxx
http://monicamania.blogdrive.com/archive/2229.html

Neon Hitch
http://monicamania.blogdrive.com/archive/5685.html

Nicole Morier
http://monicamania.blogdrive.com/archive/3675.html

NiRe Alldai
http://monicamania.blogdrive.com/archive/5301.html

Patrick "J.Que" Smith
http://monicamania.blogdrive.com/archive/2479.html

Paula Campbell
http://monicamania.blogdrive.com/archive/2163.html

Paula DeAnda
http://monicamania.blogdrive.com/archive/4202.html

Peach Candy: Rasheeda & Kandi Burruss
http://monicamania.blogdrive.com/archive/2276.html

Pixie Lott
http://monicamania.blogdrive.com/archive/3853.html

Reginald "Syience" Perry
http://monicamania.blogdrive.com/archive/4638.html

Remi Nicole
http://monicamania.blogdrive.com/archive/4258.html

Rob. A!
http://monicamania.blogdrive.com/archive/5573.html

Rosette
http://monicamania.blogdrive.com/archive/2460.html

Ruth-Anne Cunningham
http://monicamania.blogdrive.com/archive/2406.html

Sabrina Washington
http://monicamania.blogdrive.com/archive/4702.html

Samantha Jade
http://monicamania.blogdrive.com/archive/1962.html

Second Nature
http://monicamania.blogdrive.com/archive/2143.html

Shamora Crawford
http://monicamania.blogdrive.com/archive/2183.html

Silena Murrell
http://monicamania.blogdrive.com/archive/1565.html

Silya Nymoen
http://monicamania.blogdrive.com/archive/3315.html

Stefani Vara
http://monicamania.blogdrive.com/archive/2044.html

Steph Jones
http://monicamania.blogdrive.com/archive/2447.html

Sterling Simms
http://monicamania.blogdrive.com/archive/5725.html

StooShe
http://monicamania.blogdrive.com/archive/5440.html

The Veronicas
http://monicamania.blogdrive.com/archive/2864.html

The Writing Camp
http://monicamania.blogdrive.com/archive/3537.html

Tiffany Affair
http://monicamania.blogdrive.com/archive/1841.html

Tiffany Starr
http://monicamania.blogdrive.com/archive/3421.html

Toby Gad
http://monicamania.blogdrive.com/archive/4409.html

Tori Alamaze
http://monicamania.blogdrive.com/archive/1771.html

Torica
http://monicamania.blogdrive.com/archive/2991.html

Tynisha Keli
http://monicamania.blogdrive.com/archive/1864.html

Tynisha Keli (2)
http://monicamania.blogdrive.com/archive/4887.html

Victoria "Lady V" Horn
http://monicamania.blogdrive.com/archive/3725.html

Wynter Gordon
http://monicamania.blogdrive.com/archive/2006.html


---
BLOG ROLL

*Musicians' Galore - Sister Blog*
http://musiciansgalore.blogdrive.com

Best Rumor
http://www.bestrumor.com

Bronx River Parkway
http://www.bronxriverparkway.com/gossip

California Rumor
http://www.californiarumor.com

Celeb Binge
http://www.celebbinge.com

Celebs Planet
http://celebsplanet.blogspot.com

Chad Beatz
http://www.chadbeatz.com

Cigna Sight And Sound
http://cignasightandsound.blogspot.com

Daily Replay
http://dailyreplay.blogspot.com

Estrella Urbana
http://estrellaurbana.blogspot.com

Funky Media
http://funky-media.blogspot.com

J's Random Corner
http://i-am-random-j.blogspot.com

Juicy Scoop
http://juiicyscoop.blogspot.com

Kanaete
http://kanaete-jpop.blogspot.com

Mia's Meddlings
http://musicandlyrics.ibloggie.com

Music, Gossip, & More
http://musicgossipmore.blogspot.com

Musicology 101
http://musicology-101.blogspot.com

Never Forgotten
http://neverforgotten.wordpress.com

Ohhh! Crap
http://www.ohhcrapp.net/

Pop Music Kingdom
http://popmusickingdom.blogspot.com

R&B Junk
http://www.rnbjunk.com

R&B Music Blog
http://www.rnbmusicblog.com

Rory And Summer Show
http://www.roryandsummer.com

Simon's Rag
http://simonsrag.blogspot.com

Singers Room Blog
http://blog.singersroom.com

Solitaire Redux
http://solitairereduxv3.blogspot.com

Str8 Outta NYC
http://www.str8nyc.com

The Next 2 Shine
http://www.thenext2shine.com

That Grape Juice
http://www.thatgrapejuice.com

The Fashioniste
http://www.thefashioniste.com

The Gospel Fill-Up
http://thefillup.blogspot.com

The Lair
http://crazyandconfuzed.blogspot.com