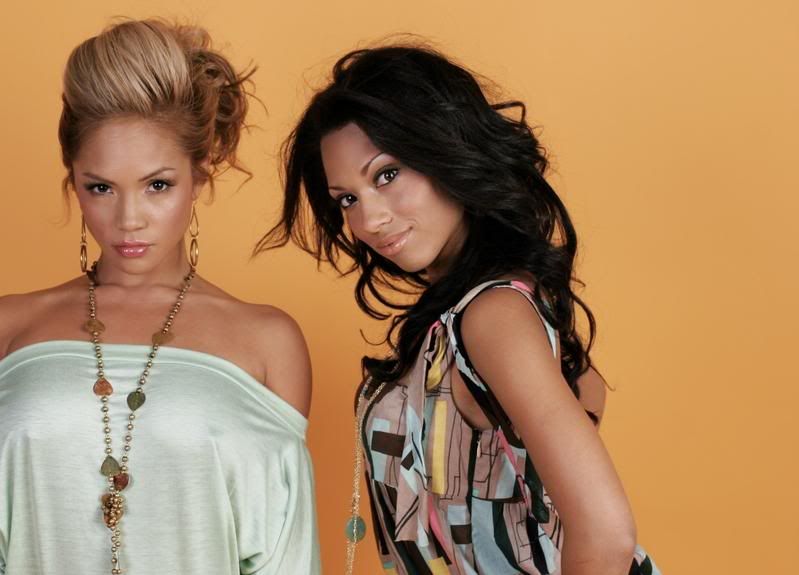 Upcoming girlband Second Nature consist of lovely beauties Margeaux Fernandez & Cheria Young, and they are currently in the process of recording their debut album which promises hot productions from Beau Dozier (Nicole Scherzinger, Samantha Jade), Poli Paul (Christina Milian, Teedra Moses) and Damon Elliot (Kelly Rowland, Jessica Simpson). I caught up with the promising duo to talk about their forthcoming LP, dream collaborations, touring with Jesse McCartney, and so much more … Enjoy reading and don't forget to post your thoughts :)
---
Hamada: - How did the two of you know each other? And whose idea was it to form a girlband?
Margeaux: - We met when we were 15. I started going to the church where Cheria grew up, and we became friends instantly through the worship team and bible study group. We also ended up singing for all of the church events together. I think it was me who kind of pulled Cheria into being in a group. We were already singing backup for Jesse McCartney and it just seemed right.
Hamada: - What's the secret behind your artiste name, Second Nature?
Second Nature: - The secret? Lol!!!! Definitely no secret! We kind of just picked it from a list thinking it made sense that music is like second nature to us.
Hamada: - Are there any plans of releasing your debut albums this year? And have you decided upon a title yet?
Second Nature: - This year like 2007?! Lol! We doubt it cause we're still recording and putting our album together. We've been through so many different stages as a group that it shows through our music. It's a good thing though 'cause once it does come out it'll be 100 percent our sound! As far as titles, that'll just hit us one day soon like,"That's it! That's the name!"
Hamada: - Whom have you worked with in terms of songwriters/producers? And whom would you love to hook up with in future recording sessions?
Second Nature: - We've worked with Beau Dozier, Poli Paul, Damon Elliot, Phenom, Eddie Galan & Drew Lane from Trilogy to name of few. They're all so great! We'd love to work with Timbaland, Justin, Kanye West, ooh and The Clutch!
Hamada: - Tell us about some of your favorite songs that have been recorded so far?
Second Nature: - Well, there are different favorites for different reasons. Our very first song was awesome cause we recorded it in a hotel room on tour. All ghetto style with a small mic hanging from a lamp shade! For real, it was great! Then there are songs like "Watch Me" from Trilogy that was a favorite from the beginning because it was written in about 30 min and when we first heard the track we knew it was gonna be dope!
Hamada: - Do you believe in the myth that "3 is the magical number for girl groups"? And have you thought about adding another member?
Cheria: - We've thought about adding a 3rd member several times. At first we actually wanted a 3rd member but never found the right girl. So I don't know about 3 being the magical number but Margeaux and I have a great thing going with the number 2...lol... Who knows? Maybe 3's a crowd in our case.
Hamada: - What sets Second Nature apart from other duos such as Black Buddafly, Brick & Lace, Myxx and Brit & Alex?
Second Nature: - The same things that separate Destiny's Child from the Dixie Chicks or The Donnas from The Cheetah Girls … different faces, different styles and different stories ... It's all love.
Hamada: - Why do you think it's harder for girl-groups to stay together?
Second Nature: - For the same reason it's hard to have four sisters, lol! When you're in a group it's not just about you. Everybody in the group has to compromise and come to a mutual agreement with everything. Maybe that's why we've stuck to just the two of us.
Hamada: - Do both of you argue a lot? Or is it smooth sailing all the way?
Second Nature: - We never argue! We've had an intense conversation maybe twice (in the almost 10 years of our friendship ... not too bad ... lol), but we respect each other and love one another like family so it never gets ugly.
Hamada: - Are you afraid that because of your strikingly beautiful looks, listeners will underestimate your vocal abilities?
Second Nature: - Lol! That's funny! It's hard for us to even consider ourselves strikingly beautiful but I don't think people pre-judge us just on our looks.
Hamada: - If you could record a duet with any artist, whom would you choose? And why?
Second Nature: - Ooooh, that's a tough one! As far as working with people, The Roots is our first choice. But to do an actual duet, definitely Justin.
Hamada: - Describe your touring experience with teen heart-throb Jesse McCartney? And is he as handsome in person? (hee hee)
Second Nature: - It was a memorable experience! It was like having a big family on the road. We all were really close and still keep in touch. And Jesse was like a little brother to us. Very cool and yeah he looks the same in person as he does in his pictures, lol!
Hamada: - Would you rather date someone from inside or outside the music industry? And what qualities do you usually look for in a man?
Second Nature: - Understanding the music industry definitely helps, but either way can work. Loyalty, passion and humor are great things to look for in a man, but ultimately you can't help who you fall in love with ... At least that's what we heard on TV once, lol! It sounds right though...lol!!!
Hamada: - Tell us something that most readers will be surprised to learn about both of you?
Margeaux: - I have a three year old son, and I don't listen to the radio!
Cheria: - I graduated from college with my BA in Biblical Studies, and I didn't go to my first real concert until I was on tour with Jesse.
Hamada: - What message would you like to send out to all Second Nature fans throughout the world?
Second Nature: - Thank you so much for all of your support!! We love you so much!! Stay tuned ... You ain't seen nothin' yet!! See the difference, be the difference, make a difference ... XOXO