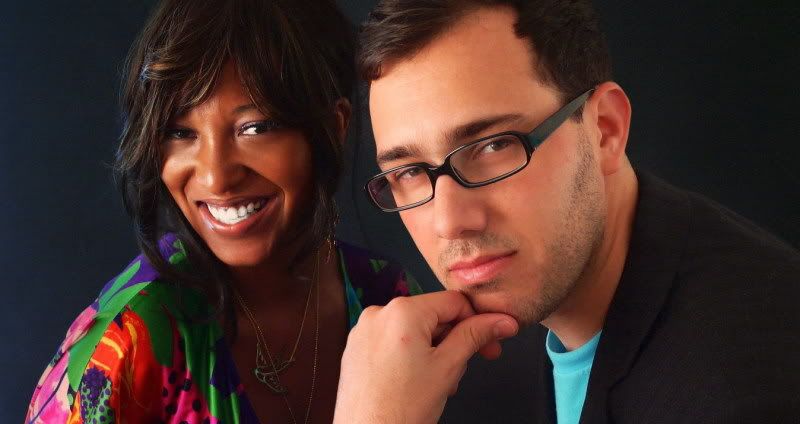 Singer/Songwriter Michelle Bell (left) has been in the music industry for years and penned hits for notable artists such as Britney Spears ("Chaotic"), Jennifer Lopez ("Come Over", "Be Mine", "Never Gonna Give Up", "I Need Love", "Frozen Moments", "The Way It Is"), Kelis ("Fire"), Blu Cantrell ("Impatient"), Sugababes ("Supernatural") and Samantha Mumba ("Relationships"). The beautiful musician also joined hands with producer/composer Peter Wade Keush (right) to form an impressive musical duo called Lynn & Wade LLP, whose style is best described as electric, organic, sexy, and cool. In this exclusive interview with Hamada of Monica Mania, she talked about her future projects, favorite clients, songwriting teams, the prank she played on Kanye West, and so much more. Enjoy reading, and don't forget to post your thoughts :)
---
Hamada: - How did you start your songwriting career?
Michelle: - My family is creative and socially inclined so I was well groomed for the music business. Being ambitious, savvy and slightly obnoxious is how I think you make it as an anything in the entertainment business. It doesn't hurt if you're talented as well.
Hamada: - Who was the first artist you worked with?
Michelle: - Jennifer Lopez was the first artist to cut one of my records. I was working with Puffy when they dated and he played the song for her.
Hamada: - What are you more passionate about, singing or songwriting?
Michelle: - I can't have one without the other. I love expressing my thoughts. Writing a song for someone is like being able to see through their eyes but knowing that they are looking through mine. Singing emotion that we both feel, that's special.
Hamada: - Tell us about your latest project, Lynn and Wade LLP? And will you guys be releasing an album soon?
Michelle: - Lynn and Wade is me, Michelle Lynn Bell (singer/songwriter), and my partner Peter Wade Keusch (producer/composer). We added the LLP (Limited Liability Partnership) to our middle names and thus Lynn & Wade LLP. "The Mystery LLP", our upcoming album, is my favorite work of art so far, we hope to have it out 2nd quarter '08.
Hamada: - How would you describe your sound?
Michelle: - Our sound is new, intelligent, futuristic, organic and sexy cool; it's also accessible and recognizable. "The Mystery LLP" is eclectic too but there's a definite thread - it's an album you'll want to dig into to discover all it's mysteries, it's also a good listen from top to bottom. We have a song called "Feelin' It Here" which is indirectly about our experience past, present and future in the music business. That theme is interwoven with lyrics that could also be about a relationship, so everyone can relate. The track actually travels with us into the future and the sounds modernize and change as we go. It's my favorite song.
Hamada: - How did the project come about between you and Peter Wade?
Michelle: - Lynn & Wade LLP was really an artist project first. We were making our record and kinda fell into producing other acts. Now we want to establish ourselves as a band and production team, think "N.E.R.D./Neptunes" meets something new we haven't seen yet.
Hamada: - I really like the songs on your MySpace profile: - "Seems like It Feels", "My Secret is Gangsta" and "Treatment". How did they come about?
Michelle: - Haha! "My Secret is Gangsta" was a moment; we were just wilding out in the studio being silly and let it happen. We like to try things and are open to letting them happen. Sometimes it's not what you say, it's how you say it.
For a few months, every time we saw Jennifer Lopez, she would whisper "my secret is gangster" and then giggle. Now she's doing a nationwide search for a dancer and it is sponsored by Secret deodorant. I think that was our doing.
"Seems like it feels" is very special, I think it's the only song on our album that is not entirely written by us. We wrote that with song with an amazing ex-artist, who can never really be an ex-artist because there's no such thing, we can't say who she is.
"Treatment" is one of our space age ideas that just feels good. It's sexy and moody. It's the little sister to another song on the album "Outerspace" which is a very futuristic pop tune about one of my former neighbors who used to sell, um, pharmaceuticals out of his home.
Hamada: - Word has it that you're penning joints on the next albums by Jennifer Lopez and Britney Spears … Can you give us a hint on what to expect from both of them hits?
Michelle: - We're super excited about Jennifer's album. We worked with her a great deal and she was open to try new things. She's grown so much as a person and as an artist and it's fantastic to find because she's really found her balance. I think you can expect hits!
Britney's claim to fame is music and I think as always she'll deliver. You have to respect someone who gives so much. We'll see how L&W pans out with her.
Hamada: - Which other projects can we look forward to with regards to your flourishing music career?
Michelle: - Right now I'm writing a lot for a huge list of artists. I just worked with an Australian artist Guy Sebastian whose voice I love. Lynn & Wade is busy writing for Mary J. Blige, finishing the Lynn & Wade album, and having thoughts about Marc Anthony's next English project.
Hamada: - You've worked with major American and British artists / producers, and I was wondering if you think there's a difference between dealing with musicians from different countries?
Michelle: - Yes and no. Good musicians/producers/artists are everywhere, and no matter what you're into, you're going to find like minded creative people wherever you are. However, I find that European artists are more open to try different styles and embrace something new or "out there" more than American artists. But I also think this is based on their audiences, European audiences are more into artistic music, whereas American audiences are more trend driven.
Either way, I've had great experiences abroad. Peter produced a song on the last Natasha Bedingfield album, we love it over there.
Hamada: - What do you think of songwriting teams that seem to be riding the waves nowadays – most notably: The Clutch, The Big Drawz, The Girls Club, etc …? And will you be forming a team of your own soon?
Michelle: - I believe in team work. Better to share and have it all than to have nothing. It's nice to have another person's energy; conversation sparks ideas. It gets boring writing from your own experience all the time. I write with a few writers consistently. I wouldn't say we're a team but they are my favorites: Teron Beal (Michael Jackson), Rhonda Robinson (Jennifer Lopez), and Larry Gates (R.Kelly). Then of course Peter and I are team too.
Hamada: - Which artists and producers you'd love to hook up with in the future?
Michelle: - I'd love for Lynn and Wade to work with Rick Rubin, Jimmy Jam and Terry Lewis, Andre 3000, Kid Rock, Snoop Dogg, Madonna, Paris Hilton and David Hasselhoff. And most of all, I'd like to meet Prince cuz he's my favorite. I even called myself Princess when I was a kid, lol!
Hamada: - Is there fierce competition between female songwriters collaborating on the same album? Or you ladies get along like a house on fire? And which ones are you fond of?
Michelle: - I think women stick together; even if we're not best friends, we still want the best for each other because we want the best for ourselves. I never know who's working on anything cuz I'm too busy working. It's not a competition, I just do my thing.
I have one or 2 female writer friends but we don't write together as much as we hang out. Angela Hunte (Danity Kane. Britney Spears) is a friend of mine. We talk shop and we like to shop.
Hamada: - If you were not a songwriter, which career would you have chosen instead?
Michelle: - I'd be a high school teacher teaching either English, music or acting.
Hamada: - I'll ask about some of the musicians you worked with, and you tell me about that experience:
Bloodshy & Avant:
Michelle: - Fun! We had so much fun, they are wild. I'm excited when I hear their tracks, I love Henrik Jonback too. They can be a little gangsta when they represent their hood, but I love them anyway. My secret is Gangster.
Blu Cantrell:
Michelle: - Blu can sing her face off. She's really talented. That session was not easy but there were many reasons. I had more fun with her singing karaoke with Teron and Rhonda in midtown.
Britney Spears:
Michelle: - Britney Spears was awesome. She actually surprised me because she can play the piano. She's down to earth and very nice. She hides it but I think people can tell she's a real artist. I hope someday she gets to bring that side of herself out more. We had a nice time working. I made cheese-burgers for everybody at our session one night. It was delicious, I can cook too.
Jennifer Lopez:
Michelle: - What can I say about Jennifer, she's great. I spent the most personal time with her outside of Britney. We shared a lot. She thinks with a movie person's brain. She told me things about her life I needed to know to tell her story but we kept our distance so I couldn't draw conclusions. It was as if, she's the star, I'm the writer, Peter's the director and we produced a movie. It was fun, we wrote a funny song about something that happened with her assistant. It started from a beat that went terribly wrong. Not for the album but just for fun.
Kara Dioguardi:
Michelle: - I learned so much from her. She's a dynamic writer and also taught me a lot about the business. Her songs are real; she has that Diane Warren versatility.
Kanye West:
Michelle: - I love Kanye! I played a funny joke on him once. His friend and I pranked called him and I pretended to be a female rapper/stripper who wanted to play him a demo. He was very kind though and I was extremely over the top. We've known each other for a while but never worked together. I recently wrote one of his tracks but missed the album. I never doubted his success; he's always been innovative and speaks from the heart.
Kelis:
Michelle: - I wasn't there when she recorded "Fire", but when I met her, she was lovely. I really like her style, I'm so glad she cut that song.
Samantha Mumba:
Michelle: - I really liked her. I worked with her on my second time in Sweden. Her aunt was there as well. Samantha had a weird experience in the "famously haunted" Murlyn studio.
Scott Storch:
Michelle: - Scott "Chimney" Storch! He was a cool guy, worked with him through Kara. That was the first time I met Timbaland, great studio. Scott was working with Christina Aguilera at the time. Cool guy, likes flossing.
Sugababes:
Michelle: - They were great, really nice down to earth. I love the song I did with them, it was so different.
Tim "Timbaland" Mosley:
Michelle: - He was in on the Scott/Kara session but we haven't had our one on one writing session. Oddly enough, I have sung back-up for him on a couple of his shows. In fact, most recently I did that again at the MTV Awards in Vegas. I'd like Lynn & Wade to work with him for sure!
TLC:
Michelle: - Unfortunately I never got to work with them. The A&R, Mark Pitts, loved a song I did with producer 88 Keys (Common, Kanye), but Lisa "Left Eye" Lopez passed before they could record it. They are magnificent and it would have been an honor.
Hamada: - Out of those mentioned, whom did you enjoy working with the most?
Michelle: - I had a great time with so many artists, including people I didn't even write with. But Jennifer is by far is the most special. She allowed me to grow as a writer and challenged me. We had fun but we worked hard.
Hamada: - Do you think you're lucky or deserving?
Michelle: - I'm lucky, deserving and blessed. I work hard and I'm thankful; it's not easy to make your dreams come true. I love what I do but I want to quit almost everyday.
Hamada: - When was the last time you cried?
Michelle: - I cry all the time, it's cleansing.
Hamada: - What are the three things that you can't live without?
Michelle: - Music, water, people.
Hamada: - Which qualities do you usually look for in a man? And are you dating someone at the moment?
Michelle: - I can't tell you anything. I save it all for the music and mayhem.
Hamada: - Tell us something that most readers will be surprised to learn about you?
Michelle: - I'm psychic, I dream in color and I've lived in the past.
Hamada: - Have you thought about visiting the Middle East?
Michelle: - I wanna the visit the Middle East and do shows there and all over the world.
Hamada: - Describe yourself in five words?
1) Spiritual
2) Outgoing
3) Loving
4) Fun
5) Insanely Loyal
Hamada: - Is there any message you'd like to give to all aspiring songwriters out there?
Michelle: - Write what you know, take singing and engineering lessons. Don't give up.